Paris terrorist attack threatens city's rebounding tourism, travel experts warn
Following Thursday night's terrorist attack in Paris—the latest in one of the world's most popular cities for tourists—both Parisians and travelers have been on edge as authorities continue to investigate the shooting.
The incident shut down the crowded, tree-lined Champs-Elysees, one of the main arteries in Paris and a tourism magnet, just three days before the upcoming French presidential elections.
"Nobody wants to be afraid when they go to take the metro or are out for dinner, but there is a nagging worry in the back of everyone's mind," Melanie Mathis, an American national living in Paris, told Fox News. "You think twice about going certain places or being in large crowds."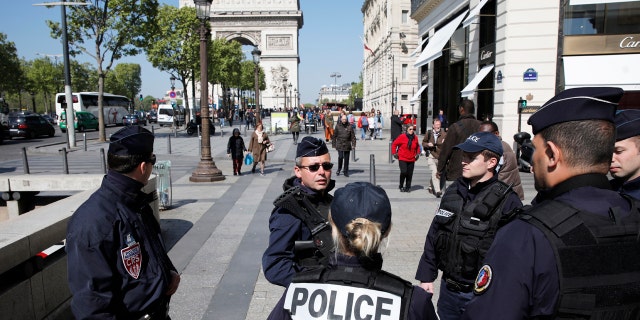 Terror attacks have become increasingly frequent in France, leaving many wondering just how safe the beautiful city really is. Long one of the most popular tourist destinations in the world, France received 83 million foreign visitors last year, according to the French Ministry of Foreign Affairs. However, that number is down from 2015, when France reported more than 85 million tourists.
LE PEN CALLS FOR FRANCE TO RESTORE BORDER CONTROLS AFTER ISIS-CLAIMED ATTACK
Just two months ago, French statistics agency INSEE reported that tourism had sharply rebounded in 2016, after two consecutive quarters of decline linked to terrorism attacks. The news came at a welcome time—tourism is the biggest industry in the Ile-de-France region, which includes Paris, and as recently as late 2016, the region reported a devastating 750 million euros (over $802 million) in lost revenue.
"Paris has been on the downside since November 2015, followed by the Nice truck attack in 2016, but we were seeing slowly travelers returning back to Paris," New York-based travel agent Ginny Caragol, Executive Director of Valerie Wilson Travel, told Fox News.
While Caragol noted a decline in French bookings following the Bataclan attacks, that trend was beginning to reverse. With these recent incidents, the agency has yet to receive requests to cancel future bookings, although, says Caragol,"this could change."
Adds Mathis, "A lot of people dream of traveling to or around France and the thought of that being taken away or diminished by terrorist threats is simply unacceptable."
France in particular, and Paris in general, has experienced a recent uptick in terrorism, with incidents including the March 2017 Orly attack; the February 2017 Louvre attack; a July 2016 attack at a church in Normandy; the July 2016 Nice truck attacks; the November 2015 attacks (including the Bataclan theater), and the Charlie Hebdo attack in January 2015.
Meanwhile, just this week, two men were arrested in Marseille on suspicion of planning another imminent attack before the Presidential election.
PARIS UNVEILS PLANS TO SECURE EIFFEL TOWER WITH BULLETPROOF GLASS WALL
The US State Department has not issued an alert for Americans traveling to France, although the France page contains a warning for those traveling or living in France, saying "When traveling or living in France, you should: Be aware of your local security situation, and take appropriate steps to bolster your personal security."
The website cautions US citizens to avoid demonstrations, gatherings and protests, and reminds travelers about France's national state of emergency in place following the deadly November 2015 attacks. In December, the French Parliament voted to extend the state of emergency until July 15 of this year, after the elections are over and a new President has taken office.
Travel risk management firm E Travel Alerts, however, has France listed as "Country Risk Level: High," indicating the fact that ISIS claimed responsibility for the attack, and noting this week's earlier arrests in Marseille.
Travelers are also being advised by the US Embassy in France to download the Government of France smartphone application, SAIP, to receive alerts regarding "terrorist attacks or other exceptional events."
"We are faced with a specifically high terrorist threat," Ministry spokesperson Pierre-Henry Brandet told reporters Thursday.
As of Friday morning, traffic on the city's metro line was back to normal, with the three stations closed yesterday following the incident—George V, Champs-Elysees-Clemenceau, and Franklin Roosevelt—open again.
While fears of terror incidents have become a fact of life all over the world, many recent attacks have been small in scale. Far from the 9/11 or 7/7 images of mass-scale terrorism, the new trend appears to be lone-wolves acting out with whatever they can get their hands on: including cars, trucks, knives, and machetes.
The trend is known as a "low-grade" attack—as opposed to targeting high-risk areas like airports—with last month's London attack on the Westminster Bridge and in front of Parliament recent high-profile examples of this scary trend.
It's particularly insidious because it means that, theoretically, anybody could strike out at any time.
"There is a general malaise that has woven itself into Parisian's lives," says Mathis. "More than that, there is a feeling of frustration that these people are somehow allowed to wreak havoc and disrupt the normally carefree Parisian lifestyle."
In a statement to Fox News, the French Consulate said, "Francois Hollande said that a shooting on the Champs Elysees on Thursday evening was suspected to be "of a terrorist nature." He promised "absolute vigilance" in the next two days ahead of presidential elections on Sunday."
Meanwhile, the French Interior Minister, Mattias Fekl, has promised 50,000 policemen and soldiers will be on hand for both election rounds, hopefully soothing fears for those worried as the critical election approaches.
For many, however, the nerves remain.
"Yet another attack in Paris tonight. Three days before the elections... terrible terrible things. I'm even more scared now," a Twitter user posted Thursday.
Another potential traveler tweeted, "i'm reconsidering going to paris because of all these attacks."
Somebody else chimed in, "A bunch of my friends are on a school trip to Paris this week and there's shootings going on. A bit worried."
But while fear and apprehension in the wake of incidents is an understandable response, Craig Sabasch, of North South Travel, a Canadian-based agency, has a different take.
"We do send lots of travellers to Paris and France, but all in all we really have not seen much of a reduction for clients travelling to there," Sabasch explains.
FOLLOW US ON FACEBOOK FOR MORE FOX LIFESTYLE NEWS
"I think after the Bataclan concert killings it got a bit quiet, but then it picked up again. France and Paris are one of the most popular destinations in the world. I don't expect a decrease—I think that Canadians are not as easily scared by these types of situations as Americans are!"
Time will tell if tourists start to abandon France again. As for locals, they'll press on.
"They can't beat the French spirit," affirms Mathis.
"The terrorist attacks actually created a sense of national identity and unity, and the country has come together to refuse any hindrance to the French way of life. The French are quite defiant and won't let anyone ruin the party."
Paris Mayor Anne Hidalgo echoed the sentiment on Twitter, saying "In the face of this ordeal, I know that the determination of Parisians to defend their way of life and their values is total."
Face à cette épreuve, je sais que la détermination des Parisiens à défendre leur mode de vie et leurs valeurs est totale. #ChampsElysees

— Anne Hidalgo (@Anne_Hidalgo) April 20, 2017