Orlando theme parks step up security measures after mass shooting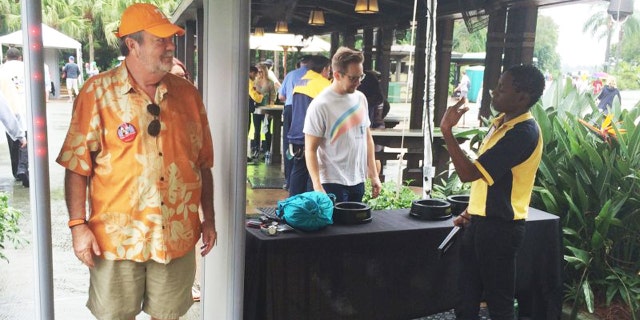 NEWYou can now listen to Fox News articles!
Orlando area amusement parks are ramping up security in the wake of a Muslim terrorist attack at a gay nightclub on Sunday morning that claimed 49 victims and injured 53 others.
Deputies at Disney World "were put on alert" Capt. Angelo Nieves of the Orange County Sheriff's Office told the Orlando Sentinel. The sheriff's office provides law-enforcement services to Disney's theme parks.
Nieves did not give details, but he said officers were being "extra cautious and vigilant in the park areas."
On Monday, People reported that gunman Omar Mateen and his wife, Noor Zahi Salman, visited Walt Disney World in April. Salman told federal authorities that, more recently, her husband has been "scouting Downtown Disney and Pulse [nightclub] for attacks."
The Walt Disney World, SeaWorld and Universal parks in the Orlando area installed metal detectors at their entrances in December after terrorists killed 14 people in San Bernardino, Calif. But park employees required only randomly selected patrons to walk through them.
Unlike the major Disney World Resort theme parks -- Magic Kingdom, Hollywood Studios, Animal Kingdom and Epcot -- Disney Springs (formally known as Downtown Disney), is about 6 miles from Magic Kingdom and does not have security or bag checkpoints.
On Sunday, guests reported long lines outside Disney World as many (but not all) guests were directed through the metal detectors.
In a statement issued Sunday afternoon, Bob Iger, chairman and CEO of the Walt Disney Company, said, "We are all heartbroken by the tragic and horrific events in Orlando, and offer our thoughts, prayers and support to everyone in our community affected by this senseless act."
According to a blog dedicated to the victims, Xavier Emmanuel Serrano Rosado was reported among the dead. Rosado worked at Disney Live in the Mickey's Rockin' Road Show. Disney employs more than 74,000 park and resort employees in the central Florida area. Pulse nightclub, in downtown Orlando, is about 20 minutes north of Walt Disney World and 15 minutes west of Universal Studios.
"Our thoughts and prayers are with all of those affected by this morning's tragedy," Universal Parks and Resorts chairman Tom Williams said in a statement. "We stand ready to help our community in any way we can."
Luis Vielma, who was killed in the attack, worked at Universal Orlando as a production assistant on the Harry Potter and the Forbidden Journey ride. He was 22 years old. Universal Orlando confirmed that the Harry Potter attraction was closed Sunday. Harry Potter author J.K. Rowling also expressed her condolences for the deceased park employee.
Felipe "Tony" Marrero also worked at Universal Studios as a ride attendant. According to NBCNews.com, he was shot several times and remains in critical condition.
SeaWorld tweeted its condolences after the attack and announced increased security measures at its parks in Orlando and San Diego.
"The safety of our ambassadors, guests and animals has always been our top priority," SeaWorld said in a statement.
"Our security teams work closely with law enforcement and we have enhanced security measures at all our parks. Like other major attractions and law enforcement agencies in the area, we do not comment on the details of our security measures in order to maintain their effectiveness."
In Southern California, law enforcement officials announced increased security and surveillance measures at the area's largest amusement park properties. The Los Angeles County Sheriff's Department told The Hollywood Reporter that more deputies would be placed in and around Universal Studios and Universal City.
In Anaheim, local police, who patrol Disneyland, said that the department takes security at the park "very seriously" and acknowledged that the area always has a "high police presence."
Going into the busy summer travel season, experts say attendance at theme parks is likely to take a small hit, but David Mandt, Senior Vice President, Marketing and Communications for the International Association of Amusement Parks and Attractions (IAAPA), told FoxNews.com that his organization is not currently "aware of a current threat to an amusement park or attraction in the United States." He says theme parks routinely work with law enforcement agencies to refine emergency operating plans-- and ensure these security breaches are rare.
"Amusement parks and attractions employ a wide variety of security measures – some are visible to the public and some are not," said Mandt. "Security measures visible to the public include uniformed and plain-clothes park patrol officers, on- and off-duty law enforcement officers, surveillance camera systems, walk-through or handheld metal detection systems, bag inspections, and more."
The biggest changes in the months to come as theme parks and large entertainment venues take security measures to the next level.
"The carnage that occurred is going to elevate security at all parks, arenas, stadiums, theaters. I believe this massacre will be the 'tipping point' for all venues listed above," Dennis Speigel, president of International Theme Park Services, told the Orlando Sentinel in an emailed statement. "'Total security' is the way we must operate. Metal, dogs, officers, random checks, multiple checks as well at the entrances will happen."
A spokeswoman for the Orlando International Airport said the airport is operating as usual, but security has been increased after the attack.