Orbitz Wins Battle With American Airlines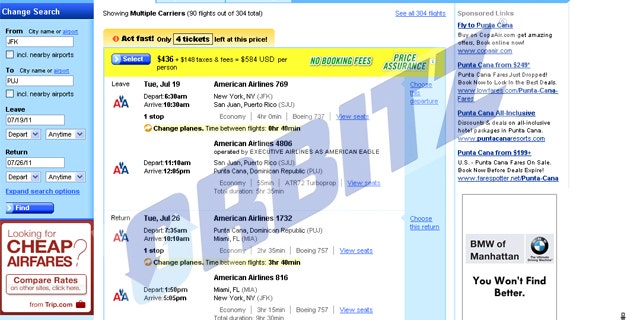 American Airlines (NYSE:AMR) has been ordered to reinstate its fares on Orbtiz.com after pulling them in December following a spat over how Orbitz (NYSE:OWW) displayed and published the flights, a judge ruled late on Wednesday.
The nation's third-largest airline by traffic pulled its content from Orbitz after the online agency refused to adopt Americans new technology that would let consumers price their trips based on other factors besides just fares.
The airline is involved in multiple legal disputes with third-party ticket sellers and online travel agencies regarding the technology, which would help it lower some of its distribution costs.
In a separate lawsuit earlier this year, American said Orbitz and Travelport displayed its fares in a way that made them appear higher than they actually were.
The decision by the Illinois Court overturns one late last year by a different judge that denied Orbitz injunctive relief. Travelport, which owns half of Orbitz, filed an appeal shortly after.
"The court should have preserved the status quo and should have ordered American Airlines to refrain from terminating any of the Orbitz agreements until the case was decided on the merits," said Judge Lee Preston in his ruling.
American Airlines said it would comply with the court order but reiterated in an email to the Wall Street Journal that is fundamentally disagreed with the ruling.
Orbitz was quick to tout the victory, noting that the reinstatement of American Airlines full schedule of flights on Orbitz.com and Orbitz for Business is a win for transparency, consumer choice and for all of our mutual customers.
The company, which competes with other online travel agents including Expedia (NASDAQ:EXPE) and Priceline (NASDAQ:PCLN), has never publicly stated how much revenue it lost without Americans listings, but the aviation giant makes up 5% of its revenue, according to the Journal.
Shares of the Chicago-based online travel agency surged more than 33% on the news to a high of $3.23. The company owns a wide portfolio including the popular website CheapTickets.