O'Hare International Airport workers go on strike during busiest travel season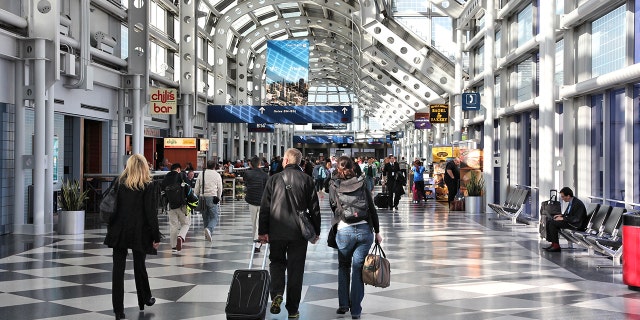 Restaurant workers at O'Hare International Airport walked off the job at noon on Thursday, during one of the busiest travel days of the year.
The workers left as protest for higher wages and affordable health care, the Chicago Tribune reported.
AIRLINES BATTLE GROWING PILOT SHORTAGE THAT COULD REACH CRISIS LEVELS IN A FEW YEARS
According to spokesman for UNITE HETE Local 1 union, Noah Carson-Nelson, the employees were expected to picket outside the airport terminals until at least 5 p.m. Thursday evening. The union represents about 1,200 employees of Starbucks, Chili's Too and other airport-stationed restaurants.
Airport restaurants continued to operate throughout Thursday, the Chicago Tribune reported, despite the strike, which only a few workers participated in. About 84 percent of the union voted in favor of the protest.
"The Chicago Department of Aviation is closely monitoring today's events, and these actions will not disrupt operations at O'Hare International Airport in any way," spokeswoman Lauren Huffman said in a statement to the Chicago Tribune.
FOLLOW US ON FACEBOOK FOR MORE FOX LIFESTYLE NEWS
The employees have been working under an expired contract since August, but HMSHost, O'Hares restaurant operator, claims to have met with the union and is moving forward with negotiations.
"It is unfortunate that Local 1 seems determined to inconvenience travelers despite our continued progress at the bargaining table," HMSHost said in a statement.
It is not known if the strike will continue into Friday or over the holiday weekend, which AAA anticipates to be a record-breaking travel season.