Officials say vaping co-pilot caused Air China flight to drop 21,000 feet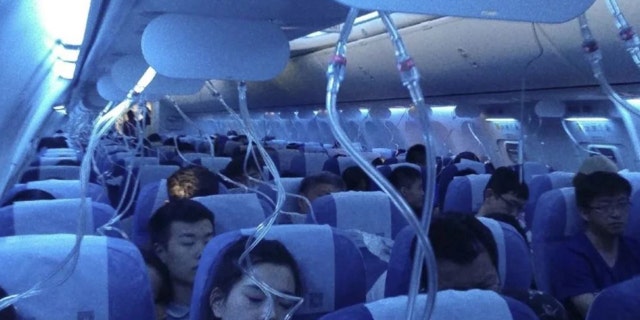 Authorities have determined that an Air China flight's sudden, terrifying 21,000-foot descent was caused by a co-pilot smoking an electronic cigarette mid-flight, which triggered a series of events that led to the deployment of oxygen masks and, in turn, backlash against the pilot.
Chinese investigators announced their findings July 13, three days after the July 10 incident, which occurred aboard Flight CA106 from Hong Kong to Dalian 30 minutes after its 5:55 p.m. takeoff, BBC reports.
"In the preliminary investigation, the co-pilot was found to be smoking an e-cigarette," China News reported of the Civil Aviation Administration of China's findings, citing a news conference.
PASSENGERS CLAIM SPIRIT AIRLINES LEFT THEM STRANDED AT LAX ON 'TRIP FROM HELL'
According to the outlet, the unnamed male co-pilot "tried to hide the fact that he was smoking" in the cockpit and attempted to turn off a fan to prevent smoke from reaching the passenger cabin "without telling the captain," but accidentally turned off the air-conditioning unit instead.
This blunder caused oxygen levels in the cabin to fall, and triggered the release of oxygen masks from the cabin ceiling, which passengers soon photographed and started sharing to social media. Crew members were then quickly forced to drop the plane by 21,000 feet, before returning to a safe cruising altitude.
The flight went on to land in Dalian without incident.
Now, officials are reportedly investigating the incident "in greater detail," reviewing the flight data recorder and the cockpit voice recorder for more information. In the wake of the scare, BBC reports that Air China declared a "zero-tolerance" approach to crew misconduct on Weibo, a Twitter-like social media platform popular in China.
According to The Telegraph, the incident continues to trend on Chinese social media, "with some commentators demanding harsh punishment and revocation of the pilot's flight license."
FOLLOW US ON FACEBOOK FOR MORE FOX LIFESTYLE NEWS
Since 2006, Chinese aviation regulations ban all flight crews and passengers from "smoking on all phases of operation."
Representatives for Air China did not immediately return Fox News' request for additional comment.
Fox News' Alexandra Deabler contributed to this report.