Nurse on JetBlue flight credited with saving life of fellow passenger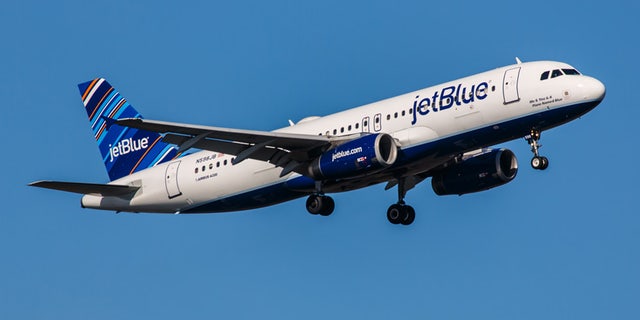 If only Courtney Donlon could be a passenger on all JetBlue flights.
Donlon, a 22-year-old from New Jersey, has only been working as a nurse for nine months, but she's already being credited with saving the life of an airline passenger who experienced a cardiac event mid-flight.
Donlon was en route from Las Vegas to Newark, N.J. (via a connecting flight in Fort Lauderdale, Fla.) when a fellow JetBlue passenger began experiencing shooting pain in her arm, neck and shoulder. The flight crew asked — via loudspeaker — if anyone aboard the plane was a medical professional at which point Donlon awoke from her nap and immediately began to assist.
ALASKA AIRLINES FLIGHT ATTENDANT PRAISED FOR REPORTEDLY SAVING HUMAN-TRAFFICKING VICTIM
"I stood up and went over to the flight attendant. As soon as I identified myself as a nurse, they let me start assessing the woman in distress," Conlon told MyCentralJersey.com.
"I introduced myself — told her I was Courtney and I worked at Robert Wood Johnson [University Hospital, in New Brunswick] and what kind of floor I worked on so she would start to trust me a little bit. I told her she was in good hands. From there, I assessed her pain."
Donlon said the woman's symptoms seemed indicative of a heart attack, so she began treating the 57-year-old passenger the best she could.
"For a heart attack, there is a common acronym called MONA and it stands for Morphine, Oxygen, Nitroglycerine and Aspirin. What they had available to me was a small tank of oxygen with a mask and I was pretty sure I could get aspirin from someone on the plane," said Donlon.
Donlon said she also tried her best to keep the woman calm, asking her about her medical history (the woman had never had a heart attack before) while assessing her condition.
After giving the woman an aspirin, Donlon informed the pilot that she was potentially dealing with a life-threatening situation. In a subsequent interview with WABC, Donlon recounted their conversation.
"'I've seen this before,'" Donlon remembered telling the pilot. "'It's a heart attack. She needs more medical attention than I can give her.'
"He says, 'What do I do?' I said, 'Land the plane.' He said, 'OK.'"
The plane touched down in Charleston, S.C., within 20 minutes. Donlon said she also stayed with the woman and held her hand as they were escorted onto the tarmac.
FOLLOW US ON FACEBOOK FOR MORE FOX LIFESTYLE NEWS
According to USA Today, JetBlue confirmed that "the customer was transported to a local hospital, and the flight continued on to Newark arriving at approximately 12:00 p.m. EDT."
Donlon is unsure of the woman's condition but hopes she will reach out when the situation calms down.
The Associated Press contributed to this report.