Now even you can sail the 'perilous' Northwest Passage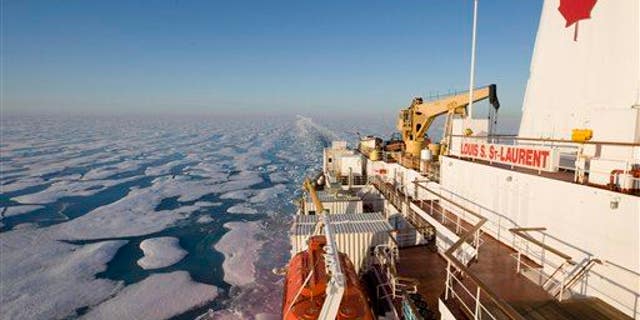 For more than three centuries, explorers tried and failed to find the Northwest Passage—a route connecting the Atlantic and Pacific via the frozen Canadian Arctic. Finally, in the early 20th century, an expedition led by Roald Amundsen prevailed.
Now, more than 100 years after that, the cruise ship Crystal Serenity will transport 1,700 passengers and crew through the "previously all-but-impenetrable" passage, Discovery News reports.
While there have been more than 200 transits through the passage by now, nothing on the scale of a cruise ship has made the trip. But because of climate change, the thickness and extent of the ice is decreasing, opening the passage to cruise-goers willing to pay up to about $100,000, reports the Telegraph.
Demand is so high that the company is booking for 2017 as well. The Crystal Serenity sets off Aug. 16, and the trip from Seward, Alaska, to New York is expected to take about a month.
Not everyone is thrilled. "The melting of the Arctic sea ice should be a profound warning for humankind, not an invitation to oil companies and now tour ships to move in," says John Sauven of Greenpeace.
The ship promises to travel at a low speed and will be accompanied by an escort vessel stocked with oil cleanup equipment. Passengers will not be allowed to use cell phones on the tiny network used by local Inuit communities.
But they will have the opportunity to spot polar bears and whales, as well as hitch helicopter rides, and play golf all night in Ulukhatok, home to the northernmost 9-hole golf course in the world.
(The world's largest cruise ship recently set sail.)
This article originally appeared on Newser: Now Even You Can Sail 'Perilous' Northwest Passage
More From Newser