North Carolina 'Land of Oz' theme park reopens for limited tours this summer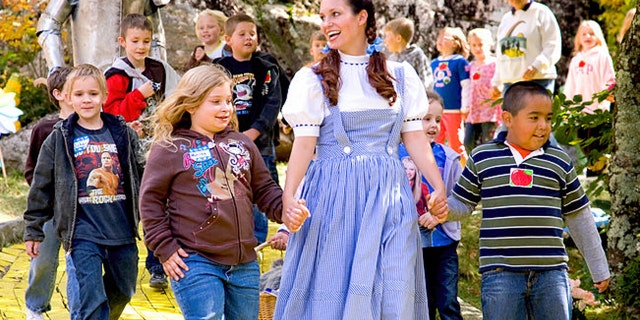 NEWYou can now listen to Fox News articles!
It's one of the most beloved movies of all time but "The Wizard of Oz" is noticeably absent from the never-ending roster of many movie-based theme park attractions.
This summer, Land of Oz, a defunct amusement park in western North Carolina will reopen for six exclusive tours a day during Fridays in June as part of a Family Fun Month promotion, reports FOX 8.
Originally opened in 1970, Land of Oz featured hot air balloon rides, meet-and-greets with costumed characters like the Tin Man and Cowardly Lion, and an elaborate Yellow Brick walking path with popular places from the movie like Munchkin Land and Emerald City.
Although receiving 400,000 visitors during its first summer in 1970, the park eventually closed in 1980 due to economic difficulties and changing consumer expectations about theme parks.
In the late 1990s, the park opened periodically to host invite-only events but this year's tours are open to all who are lucky enough to snag tickets.
"This is an opportunity to walk through a classic story with the main character," Jana Greer, who plays Dorothy and takes guests skipping down the Yellow Brick Road, told FOX8. There may not be a Toto but guests will likely be invited to join in a sing-a-long as they follow the bright yellow path.
"Escape the 'cyclone' and run to the storm cellar and enter into the magic Land of Oz. Skip and sing with the Dorothy as you try to find your way home," explains Greer.
Land of Oz is in Beech Mountain, N.C. about 85 miles from Asheville.
The park will open every Friday in June and tours take place at 10:30 a.m., 11:30 a.m., 12:30 p.m., 1:30 p.m., 2:30 p.m. and 3:30 p.m., according to event organizers. Tickets cost $12.50 plus a $10 roundtrip lift ticket and must be reserved online the Monday before each tour.