New Zealand tourist attraction removes racially 'offensive' and 'grotesque' sign after complaints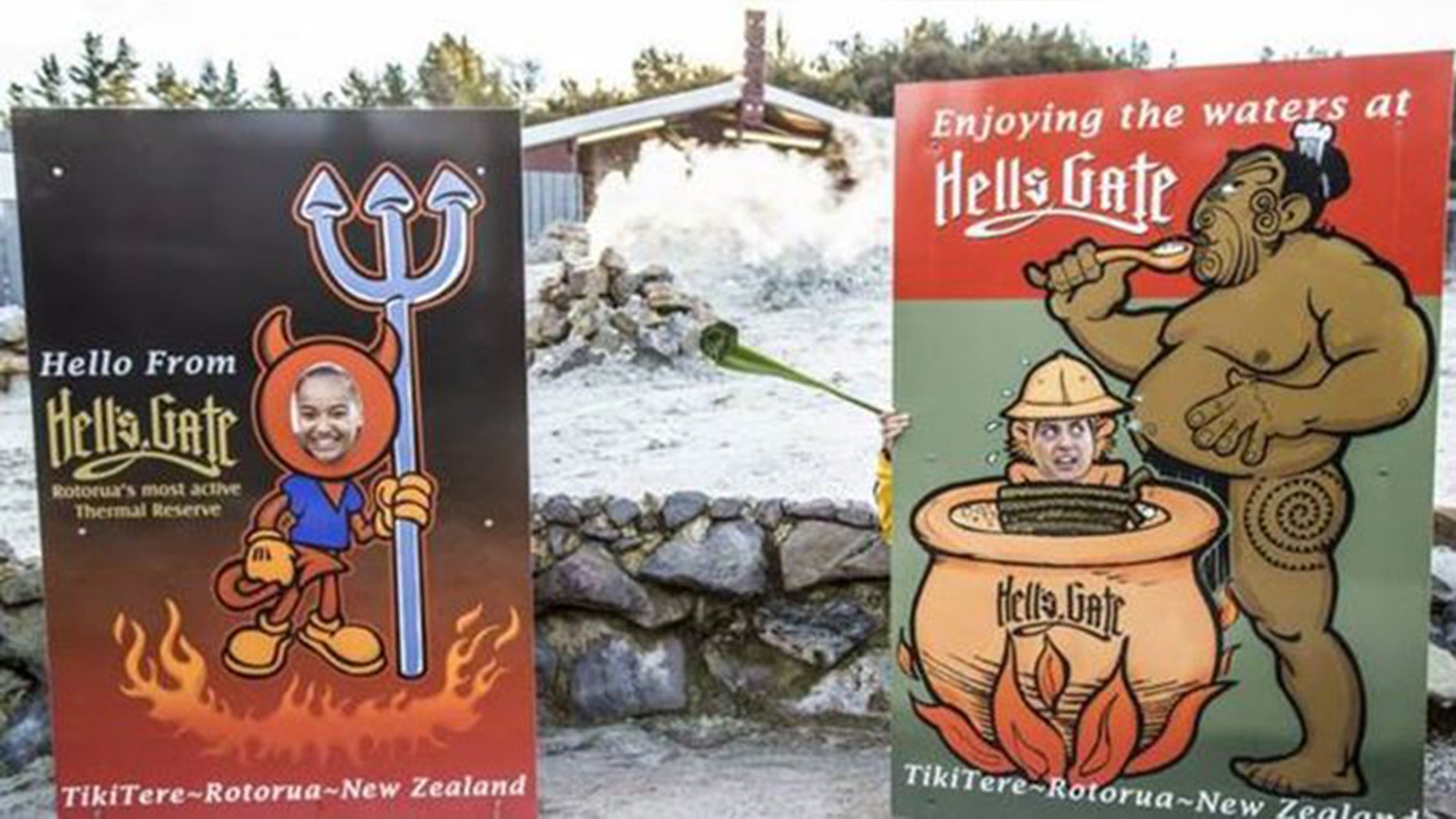 A popular tourist attraction in New Zealand has removed a racially offensive sign after being called out online.
The sign was on display at Tikitere, a geothermal park, mud bath and spa in Rotorua named "Hell's Gate" in the 19th century by Irish playwright Sir George Bernard Shaw.
The sign featured a cartoon depiction of a Māori man with tattoos holding a spoon and standing above a cooking pot. Inside the pot's water was a person tied up by rope over an open flame, and a cut-out in the sign allowed for people to pose underneath a message reading, "Enjoying the waters at Hell's Gate."
JET2 APOLOGIZES FOR ASKING DISABLED BOY IN MOTORIZED SCOOTER TO PROVE DISABILITY
While the sign has reportedly been on display for nearly 20 years at the Māori-owned and operated property, it recently drew criticism online when a blogger who identifies as Māori posted about it on Twitter.
"So apparently if you go to the Hells Gate visitor attraction at Rotorua, there is this f---ing awful thing you can take your photo with," Moata Tamaira wrote.
"Am I alone in thinking this is just a grotesque racial stereotype played for laughs and that it's actually horribly offensive?"
Many others agreed with Tamaira, calling the sign "disgusting."
"It is wrong on so many levels. I guess it was a poor attempt at [humor]," one person wrote.
"Seems we still have a lot of growing up to do if anyone thinks this is appropriate," another person commented.
Hell's Gate operations manager Paul Rayner told the New Zealand Herald he ordered the sign to be taken down, though noted this was the first complaint he received in 18 years of working at the spa.
"We are Māori-owned and operated. That is the last thing we want to do… we don't want to cause offense to anybody," Rayner told the Herald.
FOLLOW US ON FACEBOOK FOR MORE FOX LIFESTYLE NEWS
According to the Herald, Māori have been bathing in the geothermal muds and hot springs of Tikitere for over 700 years.
A second sign, which features a devil holding a pitchfork with a cutout for posing, still stands on the property.