New York mother battling breast cancer says she was 'violated' by TSA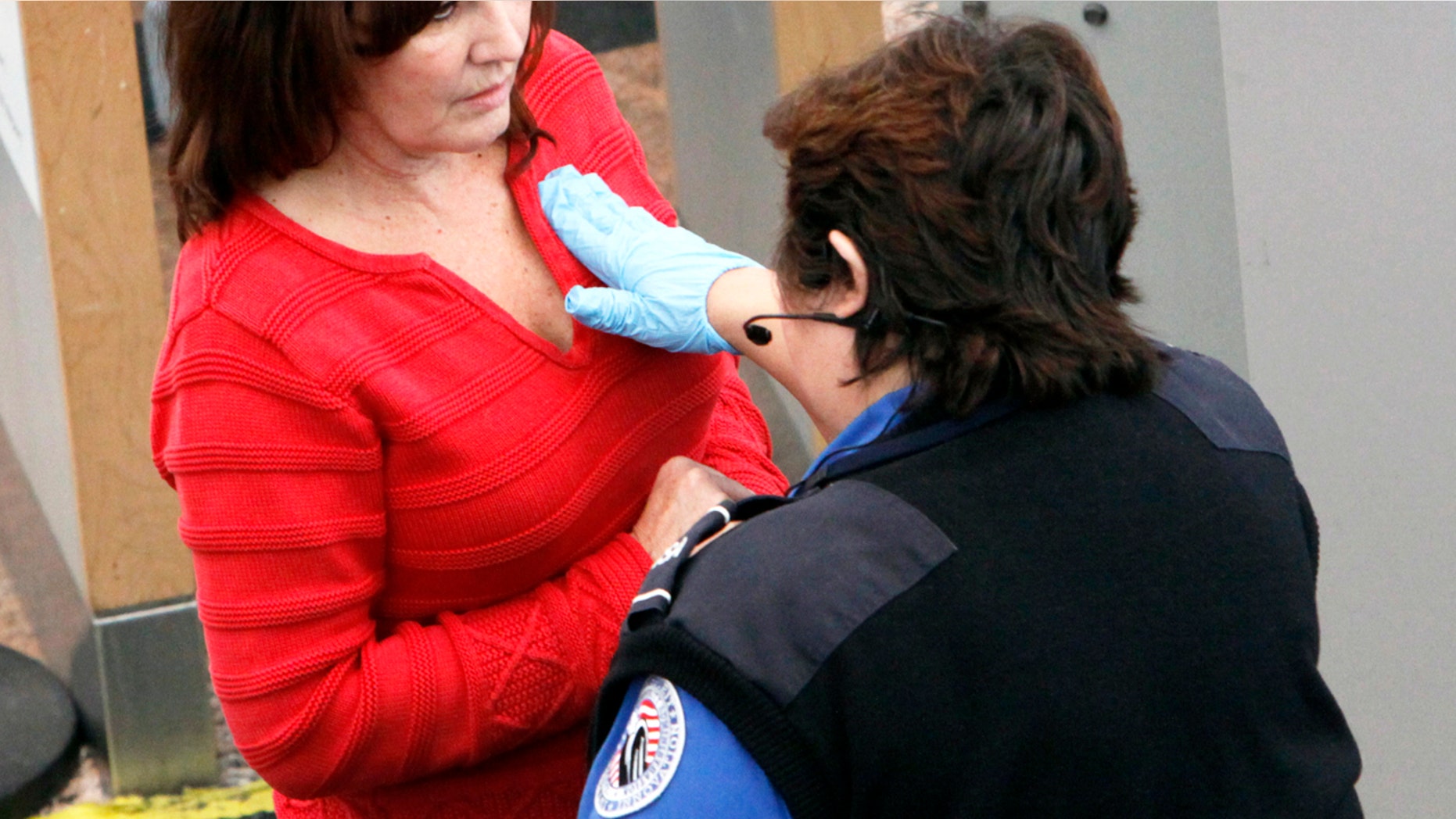 Denise Albert was flying home to New York Sunday night when she says a TSA agent put her hands on her buttocks and crotch and then patted her left leg all the way down to the ankle, applying pressure the whole way. In the incident, captured on video, the TSA agent then goes back up and repeated the process along Albert's right leg.
But when the agent moved her hands to her chest, Albert, co-host of a media company called "The Moms," had had enough.
"You can't touch me there," she told the agent. "You can't touch me there ... You can't touch me there."
Albert reiterated, "Sorry … I have breast cancer. I have a port in me. You can't touch me."
A second agent moved in and told her: "So, that is part of the procedure. We have to clear everything … She's going to use as much pressure as she needs to, to clear the area. That's part of this. We have to make sure there's nothing there."
"I was in such shock…. I have never been so humiliated or felt more violated in my life," Albert, 41, wrote that night in a lengthy Facebook post that included a video of the incident.
The mother of two sons, who has chronicled her battle with cancer in Good Housekeeping and writes a series called "Divorce Diaries" for the Huffington Post, continued:
"I went through the scanning machine at the airport without incident. I had already told them about my metal port and my medical cream which I removed from my bag for them to see and test as I have done on prior flights.
"I don't know what was different this time but TSA agents aggressively attempted to do a body cavity search in public. I was TSE precheck and once through the scanner they asked me to take off my shoes.
"I explained I didn't have socks on and that my cream is for an infection from my current treatment, including on my feet. So if they wanted to put my shoes through x-ray, I would have to sit down because I would not put my bare feet on the floor. They allowed that.
"They then started to tell me they would apply pressure from head to toe and I got very upset because I wear a wig. I didn't want them to touch it, move it, or ruin it. So I ripped it off for them to pat my head ….
"After at least 20 minutes of sitting there because they were debating how to proceed, I told them my feet were freezing. Also a side effect from chemo. They refused to help me."
After several minutes, a supervisor finally arrived, took her to a private room and conducted a "regular soft pat down," Albert wrote. But her ordeal wasn't over.
"… they opened my bags, removed everything and another TSA agent joked about all of the eyelashes I had. I told her, it's because I don't have real ones from my cancer treatment."
"I started crying," Albert told PIX11, where she is a regular guest on the morning news. "It was overwhelming and horrific. I could not believe what was happening….
In an updated Facebook post on Dec.5, Albert wrote that she has " never been so humiliated or felt more violated in my life."
She said she has since filed an online complaint with the TSA and received a form response:
"We regret that you had a negative screening experience. While every person and item must be screened before entering a secured area, the manner in which the screening is conducted is important. Our policies and procedures focus on ensuring that all passengers, regardless of their personal situations and needs, are treated with dignity, respect, and courtesy…."
In a statement sent to Pix11, the TSA wrote: "The Transportation Security Administration takes reports of alleged impropriety very seriously. TSA is currently looking into the specific details as to what occurred during the screening process to ensure our security protocols were followed. We regret any distress the security screening process may have caused the passenger. We will work with the passenger directly to address her concerns."