Mother kicked off Frontier flight over sick son's oxygen tank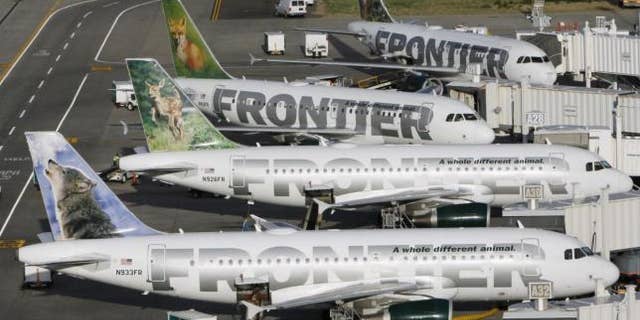 NEWYou can now listen to Fox News articles!
A Las Vegas mother claims she was kicked off a flight to Orlando for bringing a portable oxygen tank onboard to be used by her infant son.
Yamile Quintero, who says her son Roman suffers from a heart murmur and has a chronic lung disease which makes it difficult for him to breathe, says she called Frontier before flying to confirm that the type of tank she had was acceptable.
"I asked and they were like, 'Yeah, as long as it's portable oxygen, you're fine. You can get on the plane," she told KSNV.
Quintero had planned to fly to Orlando to visit family over Mother's Day weekend and this was her first time bringing Roman on a plane.
But after boarding the aircraft, Quintero says a flight attendant told her she was not able to fly with the oxygen tank and was asked to disembark.
The FAA allows some portable oxygen tanks, but can also require a note from a doctor-- something Quintero was not aware of. Frontier's website also has a list of FAA approved oxygen concentrators, but the mother said she thought she had gone through the proper channels to verify that her son would have what he needed to fly.
A Frontier Airlines spokesperson told local station KRTK that Quintero needed an FAA-approved oxygen concentrator which is different from a tank.

Richard Oliver, a Frontier Airlines representative, said, "Our agent responded and said yes portable oxygen is allowed on the plane and continues to say that if you want to make sure your device is allowed on the plane, you can check out website."
Quintero says she was still "humiliated" by the ordeal.
"I did all the proper protocols. I called, I double checked at the door, I double checked at the gate, I double checked everywhere. I called and I did everything. I followed all the procedures and I'm getting kicked off the plane like I'm some type of criminal," she said.
"Multiple times I stated it was a portable oxygen tank. And they said it was fine, and it wasn't. And they kicked me off the plane for it and humiliated me."
Oliver said the airline apologized to Quintero and offered her son an approved oxygen concentrator. "We do certainly apologize for the confusion that occurred at the airport."
Though she did eventually make it to Orlando, the mother wasn't satisfied with the airline's response.
"They took my first Mother's Day away from me."