Moose hunter slams Facebook critics who called her 'disgusting'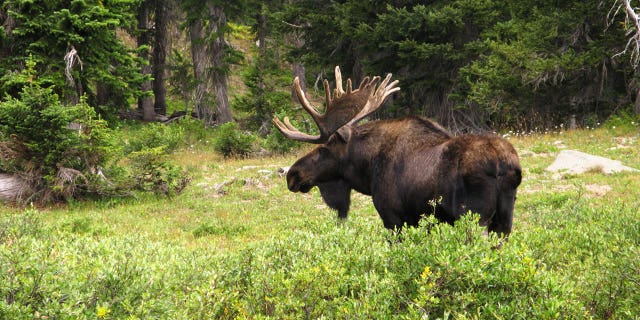 Hunting enthusiast Jessica Grays says she's "thankful" for the multiple death threats she's received after images of her Alaskan moose hunt went viral late last month, as they've since resulted in speaking gigs and sponsorships.
"Thank you for the amount of HATE and death threats you have all sent my way," wrote Grays in response to the negative comments on her Facebook photos. "It has created quite the media stir bringing this to a National Platform where I have media, newspaper, huntings [sic] blogs, radio stations and women's rights groups contacting me to be spokesperson and sponsorships from it!"
HUNTING EXPERT EVA SHOCKEY ON WHAT TO EXPECT IN THE WILD
Grays initially posted the photos from her hunt on Sept. 19, sharing several pics that depicted her and a hunting companion — presumably her husband — harvesting a bull moose. "A HUGE CONGRATULATIONS to my partner in crime on harvesting this MONSTER BULL!" Grays wrote alongside the photo.
Grays also shared photos of herself holding the bull's gigantic horns after they were removed from the animal's carcass.
Soon afterward, Grays' Facebook page began to flood with comments from critics who disapproved of her lifestyle, some of whom called Grays and her friend "disgusting." Several, too, hoped that Grays might receive some kind of karmic retribution after killing the animal.
Supporters, meanwhile, rushed in to congratulate Grays on the kill. Others also argued that she's actually helping to conserve the moose population in Alaska by thinning the herds.
6 WAYS TO FIND A BUCK YOU ALREADY SCARED OFF
In her follow-up post — the one in which she thanks the haters — Grays too argued that her detractors were not educated on the hunting laws in Alaska, or the "environmental impact that controlled lawful hunting provides" to the area.
"Accusing someone of murder when they hunt an animal is like accusing jet pilots of global warming … it's intellectually irresponsible and brings light to the greater issue, mental illness of those who make such ignorant claims," she wrote.
Grays added that, in addition to herself, her family has been "ambushed" with death threats and "called the most disgusting and filthy and evil names" in response to her photos. She then suggested her critics leave her alone and "go hug a tree."
FOLLOW US ON FACEBOOK FOR MORE FOX LIFESTYLE NEWS
Grays also issued a statement to Yahoo, telling them she's saddened by the response to her photos, especially in the wake of the devastating tragedy in Las Vegas.
"I find it unfortunate that the day after we as a nation suffer the greatest loss of human life in the tragic Las Vegas shooting; that instead of coming together as a nation to preserve and honor the sanctity of human life, I have received hundreds of death threats from the anti-hunting community," Grays wrote.
"For me hunting is a part of who I am, I am very passionate about it," Grays continued. "It has been my husband's dream to harvest a moose for over 20 years. I value the animals [sic] life and the process it takes to hunt them. Nothing goes to waste."
Grays was not immediately available to comment for Fox News.