Montana resort caters to dogs with gourmet meals, mixers and four-legged fashion shows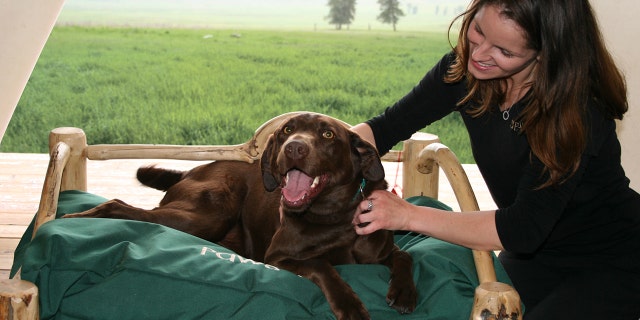 In the last few years, dying-dog bucket lists become a thing — some even going viral.
When my 150-lb. shelter rescue, Zeus, was diagnosed with cancer this summer and given 1-3 months to live, I dropped my to-do list to tackle his bucket list. At the top? A trip to The Resort at Paws Up in our home state of Montana.
Starting at $650/night per person, the Resort at Paws Up is where the likes of Leonardo DiCaprio, Gwyneth Paltrow and the Rolling Stones stay when they're in Big Sky Country. (It's where Usher's entourage approached me and asked if they could take a photo of Usher Jr. standing next to Zeus.)
HURRICANE FLORENCE: SAFETY TIPS FOR PETS
But the real celebrities at this 37,000-acre resort are the ones with four legs and tails that never stop wagging, even when they're sick.
The ultimate in paws-pitality
Paws Up, once a cattle ranch owned by Charles Lindbergh's sons and the place that introduced "glamping" into our vernacular, gets its name from man's best friend. In fact, the resort's logo is a paw.
Not only are guests allowed to bring their dogs if they rent any of the 28 luxury vacation homes, but the $50/night resort pet fee includes a dog bed, a kennel, dog treats, dog dishes, a Paws Up collar and even a welcome letter from Coco, the owner's dog who lives on site.
When I opened the door to our home, Zeus made a beeline for the giant yellow lab guarding the fireplace. After a few unreciprocated sniffs, he realized it was a statue and turned his attention to the tennis ball in his welcome package.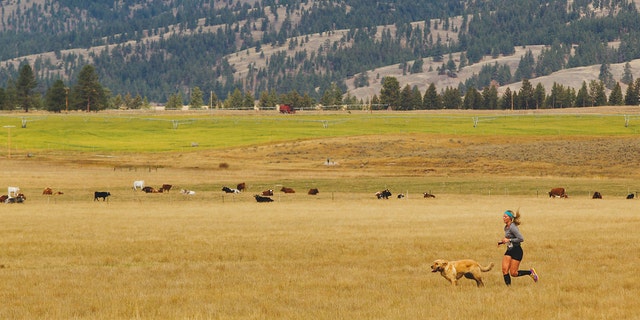 Trails for days — no, weeks
The welcome package also includes a map of hiking trails. Located about 100 miles south of Glacier National Park, Paws Up is nestled between two national forests. Within the property, there are more than 30 miles of marked trails to explore, or in Zeus's case, territory to mark and chipmunks to chase.
Many of the trails are historically significant. In July 1806, the Corps of Discovery covered this same ground. What's more, Meriwether Lewis had his beloved Newfoundland, Seaman, by his side. The fact Zeus is half Newfoundland made hiking here seem even more surreal.
NEW ZEALAND TOWN PROPOSES BAN ON CATS WITH 'PEST' PLAN
Waterfront location
With 10 miles of riverfront real estate and, as of 2018, a private island on Salmon Lake, Paws Up is paradise for the water-loving breeds who taught us how to doggie paddle. While most of the aquatic activities like rafting, wakeboarding, fly fishing, kayaking, sailing and jet-skiing are reserved for humans, Zeus was content to just escape the summer heat in the Blackfoot River while I participated in a Wilderness Workshop hosted on the riverbank. So as the other guests and I filled our watercolor painting cups up with the same river that served as the setting for "A River Runs Through It," Brad Pitt wasn't even on Zeus's radar. The only thing running through his mind? Wade, shake, repeat.
Five-star service
Prior to Paws Up, the only time Zeus ever ate food prepared by a professional chef was when I brought home leftovers in a doggie bag. That changed when the resort's Executive Chef Sunny Jin, formerly of the Michelin-star-rated elBulli, learned Zeus was on the property. Chef Sunny offered his condolences — saying he'd recently lost his dog — and personally asked what the kitchen could prepare for Zeus. That gesture impressed me. But it was returning to our home after dinner to find a framed photo of Zeus and I by the river that brought me to tears. (The ranch's social media manager had snapped the photo earlier in the day, but I just figured it was for Facebook.)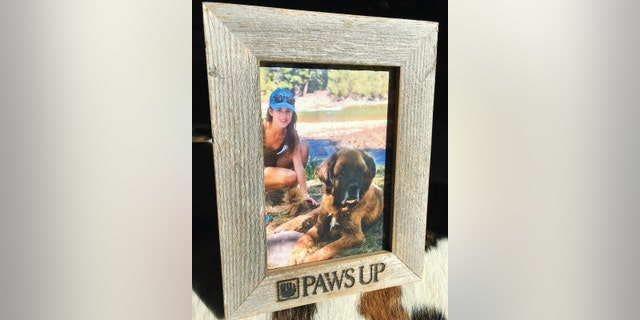 It's also worth noting that the resort's spa menu includes a "Wag the Tail" 15-minute massage treatment exclusively for dogs.
Wine & B****
Since his fibrosarcoma tumor is growing exponentially, I don't know if Zeus will still be alive on October 6. But if he is, he'll have a ticket to Paws Up's annual Wine & B**** dinner. Promising "wine tasting and tail chasing," the event features a culinary feast — complete with gourmet dog bones prepared by Chef Sunny — and supervised socializing in an indoor arena bigger than most dog runs. In the past, there's also been a four-legged fashion show, a pup parade and wine pairings provided by Mutt Lynch — a dog-themed winery in Sonoma.
FOLLOW US ON FACEBOOK FOR MORE FOX LIFESTYLE NEWS
The Canine Classic
The day after the aforementioned dinner, Paws Up hosts its 10th Annual Canine Classic. It's one of very few public footraces that not only allows dogs to run alongside their owners, but features courses specifically designed for them so they can run off-leash. There's a two-mile walk, a five-mile fun run and even a half-marathon through the woods. This year's special guest, The Honest Kitchen founder Lucy Postins, will hand out holistic pet food samples and share recipes for dog food featuring "100-percent human grade" ingredients. All event proceeds go to the Humane Society of Western Montana — the first place I'll look for another dog when Zeus crosses the rainbow bridge into a doggie heaven, that I imagine looks a lot like Paws Up.