Module plane design concept could end airport gridlock forever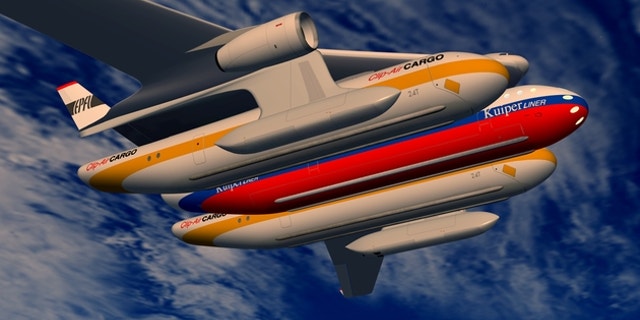 NEWYou can now listen to Fox News articles!
A new airplane design created by Swiss scientists could end airport gridlock forever.
The idea, from Switzerland's Federal Polytechnic Institute, calls for airplanes to have separate, interchangeable elements that can be mixed and matched as needed.
Streamlining the travel process
Passengers would board capsules or "pods" without wings or engines that could then be attached to a plane. This could potentially help fliers avoid the need to wait in line at the airport during boarding. Also, instead of changing planes to catch a connecting flight, they would simply have to remain inside their capsule while it was transferred to another plane.
According to designers, the pods would be intermodal. This means that passengers could travel by road or rail and then remain inside while the capsule is transferred to a plane. The idea is not unlike the way that cargo is now transported by shipping container. Containers can easily be transferred from rail to ship to truck without ever being opened or unloaded.
Indeed, the concept, called Clip-Air, could be used to transport cargo and passengers on (or, rather, under) the same plane.
Potential drawbacks
Like other concept planes, Clip-Air is undeniably a long way from becoming reality. However, the designers decided to work under a rigorous set of rules so that the idea is, at least, technically possible.
Despite this, Clip-Air has some serious drawbacks. First of all, the design, which calls for the wings and fuselage to be separate from the cabin pods, is not very aerodynamic. In an age when airlines are putting a premium on fuel efficiency, it would be difficult for such a design to gain traction.
Also, if the pods were large, they would not be able to travel on the current road and rail infrastructure. So even if the capsule plane idea itself is technically possible, it would take a significant amount of development in other transportation industries before the whole intermodal concept could become a reality.
This is an important issue because the designers envision rail and air transport working together. The project's web site explains: "The premise behind Clip-Air is to bring rail transport's flexibility to air transport and to make airports reach all the way into railway stations."
More from TravelPulse
Costa Revamps Suite Amenities and Privileges
5 Great Destinations in Mexico Outside of Riviera Maya
What To Know When Playing Blackjack
Why Wales is the Perfect Destination for Golfers
5 Delicious International Dishes (With Disgusting Names)
What about security?
Furthermore, how would TSA deal with different pods coming from different places? This setup seems like a nightmare for a security agency that is notoriously slow to adapt to changes.
And then there is the cost of updating airport infrastructure so that there is equipment in place to attach and remove the pods. At least in the early years of Clip-Air planes, flying could be very, very expensive while airlines and airports recoup their investment.
An attractive idea nonetheless
Even with these drawbacks, the idea of being able to streamline the transportation process in an age when going to the airport leads to headache after headache for fliers, is certainly an attractive one.
It's a starting point for new exploration
Even the designers admit that the plane itself is not 100 percent practical. However, turning this concept into reality is not the only reason that the project was made public. Ideas like creating a closer connection between rail and air transport and finding ways to streamline the airport process are very relevant to the improvement of the current transportation infrastructure.
Clip-Air's creators explain that there are concepts beyond the concept plane that are important for the near-term development of rail and airports. "The plane is a starting point for the exploration of new fields of research, such as alternative energy, economic and societal impact or airport architecture of tomorrow."