Man steals entire ATM from La Quinta Inn and Suites in Montana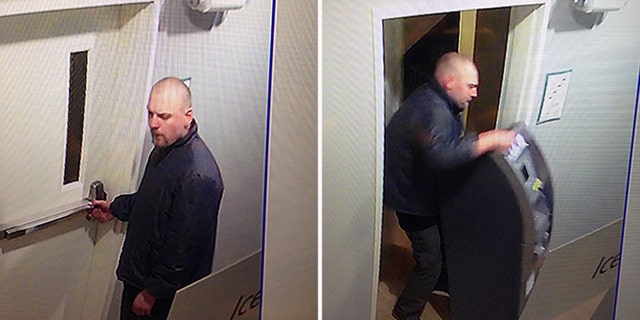 A hotel manager in Montana is impressed ─ and probably a little bit peeved ─ by a resourceful thief who managed to drag an entire ATM from the building without arousing suspicion.
"He was able to physically, once he got it free from the bolt, just drag it out the door," said Gail Linnel, the general manager of the La Quinta Inn and Suites in Billings, Mont., reports KULR-TV.
"It's kind of amazing, those things are heavy," she added.
INSTAGRAM ACCOUNT ABOUT HOTEL CARPETS AMASSES MORE THAN HALF A MILLION FOLLOWERS
According to surveillance footage, the thief entered the La Quinta Inn at approximately 3:00 p.m. on Saturday afternoon before taking a roundabout route to the ATM on the other side of the building. Then, with no special tools to speak of, he worked to free the bolted-down machine from the floor over the next four hours.
The thief was finally able to abscond with the ATM a little before 7:30 p.m., but Linnel says she wasn't notified until at least a half-hour later.
"We didn't hear any power tools obviously, or we would've been alerted to it," she told KULR.
The owner of the ATM also noted that the stolen machine weighed somewhere between 200 and 300 pounds.
FOLLOW US ON FACEBOOK FOR MORE FOX TRAVEL NEWS
Police have yet to make any arrests, although they say they were able to identify the suspect from surveillance footage. A spokesman for the Billings police department has declined to release the amount of money inside the hotel's ATM, the Associated Press reports.