Man in MAGA hat causes United flight disturbance, delays plane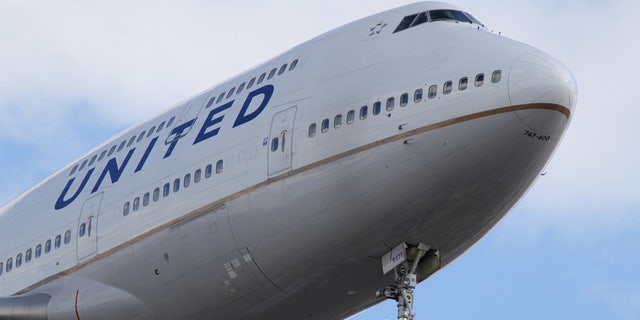 A United Airlines passenger wearing a "Make America Great Again" hat delayed his flight by several hours while yelling insults at others on board and refusing to sit in his assigned seat.
United Flight 87 was scheduled to depart from Shanghai's Pudong International Airport in China for Newark Liberty International Airport in New Jersey on Sunday evening, but upon boarding the aircraft, an unidentified man in a red MAGA cap allegedly sat in someone else's seat and refused to move, reports NBC Bay Area.
A source for NBC New York added that the man had initially asked to be upgraded to first class, but when the crew couldn't accommodate his request, he sat down in some empty seats near the rear of the plane and refused to allow any other passengers to sit in his row.
WHAT DOES NEW 'BASIC ECONOMY' SEATING MEAN FOR AIRLINE PASSENGERS?
In footage from the incident which has since been posted on social media, the man can be seen yelling at other fliers, and even accuses an unidentified man of being a "moron" who "don't know how to speak English." (Warning: Footage contains mild profanity.)
A fellow passenger, Clark Gredoña, wrote on Facebook that the man had also "berated" some of the female passengers and crew, calling one "Hillary" and accusing her of being a lesbian.
As a result of the man's actions, all of the passengers aboard the flight were forced to de-plane after authorities arrived to talk to the man wearing the red hat.
The man left the plane shortly thereafter, according to United. Gredoña added that passengers were shouting "Lock him up!" as the man was escorted off the plane.
"While boarding United flight 87, from Shanghai to Newark, a customer refused to comply with crew member instructions and became increasingly disruptive when asked to deplane the aircraft," United told Fox News via email. "For safety and security reasons, local law enforcement was called to assist and the customer eventually left the aircraft on his own accord."
FOLLOW US ON FACEBOOK FOR MORE FOX LIFESTYLE NEWS
But the drama didn't end there. Due to the delay, the flight was forced to make an unscheduled stop in San Francisco to switch crews.
The flight eventually arrived in Newark at 2:22 a.m. EST, more than eight hours after it was scheduled to touch down Sunday evening.
In their statement, United also thanked its passengers and crew for their patience during the ordeal.
"We're grateful for the patience shown by our customers who endured the disruptive behavior of this passenger, as well as the exceptional poise and professionalism of our flight crew," wrote the airline.