Lessons learned from traveling with baby on Puerto Rico trip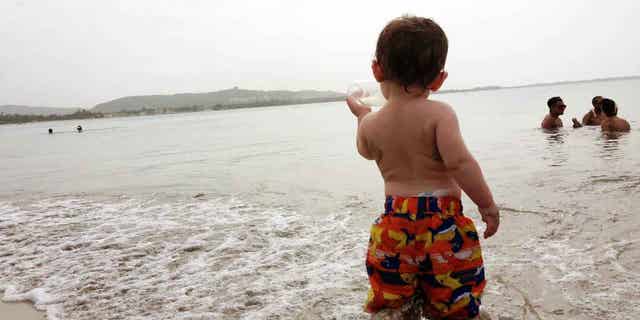 SAN JUAN, Puerto Rico – We were in paradise, surrounded by lush trees and waterfalls in El Yunque rainforest.
But the pint-sized traveler on my husband's back was more concerned about our dwindling Goldfish supply than the marvels around us.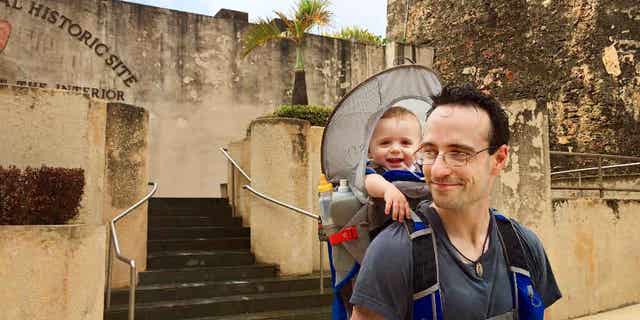 "Look, Hunt, a waterfall!" I pointed. He responded by touching his pinched fingertips together and saying, "More, more, more."
I slipped him another cracker and repeated our mantra that this trip would be good for him.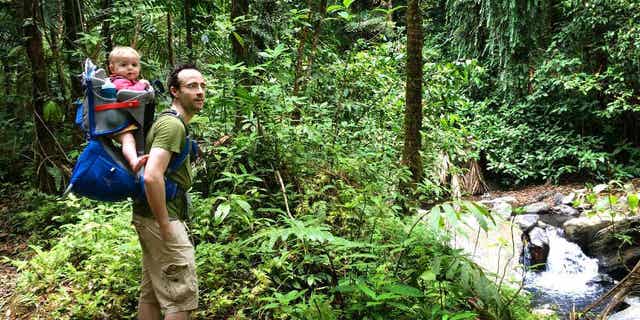 Seventeen months after my first son was born, my husband and I were itching to go abroad. We love travel and experiencing new cultures. And because we hope to instill that love in our offspring, we decided to bring him along.
Some friends and family were perplexed. "You know he won't remember it, right?" they asked.
Sure, we knew. But we also knew that what kids experience shapes their brains and futures, whether they remember those experiences or not.
And we knew we'd miss the bugger like crazy if we left him behind.
So we set some parameters. We wanted a spot that was affordable, wouldn't be a nightmare to fly to with a toddler, had plenty of kid-friendly attractions and would expose him to another language.
Puerto Rico fit the bill.
Our passports are colored with trips abroad, but we quickly realized we had to toss out all we thought we knew about traveling.
We were no longer a (somewhat) low-maintenance duo, sharing two carry-ons and one checked bag. No, this was a four carry-on, two-checked bag endeavor, plus a gate-checked kid carrier.
Necessities from previous trips — like laptops and pro photo gear — were nixed to make room for baby supplies like swim diapers. For photos and surfing the Web, we used our iPhones.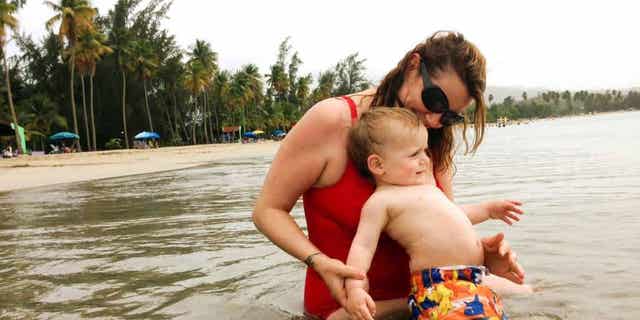 As with parenting in general, we prepared well on some fronts, but flubbed others altogether.
Things we did right:
— We brought things to keep the tyke busy on the plane and beyond: books, crayons, paper and even annoying noisemakers we'd cursed relatives for giving us but which ultimately proved invaluable.
— We researched San Juan well enough to know that a stroller would be a pain. We opted instead to bring a hiking-style child carrier. This made our jaunt through the rainforest easy and it was a great conversation-starter with locals. One woman literally stopped traffic to tell us how cool she thought it was.
— We got a two-room suite. It cost $50 more a night and felt strange for me — my first trips abroad were hostel-hopping budget fests. But having two rooms let us keep Hunt on his normal sleep schedule, while letting us talk, read and more between his bedtime and ours.
— We stuck with his nap schedule, too, by tackling one outing in the morning, then returning to the hotel for a noon break before going back out. That limited our itinerary, but we knew skipped naps would be a hell we preferred not to endure.
— We did things that weren't kid-friendly like San Juan's historic forts and the Arecibo Observatory, just as we would have without him. We walked miles a day to see how people on the island live, and we shopped at a farmers market. When Hunt got impatient, one of us broke away with him and let the other finish the experience.
Things we did wrong:
— We broke our don't-disrupt-the-baby's-routine rule by booking a late flight on the way home, and, oh, did we pay for it. While we managed to mostly shield fellow travelers from our anguish, my husband ended up with a shiner from a tiny, flailing fist during one particularly potent tantrum.
— We didn't ask the hotel about noisy scheduled events. Big mistake. We loved our hotel, but didn't love the bar-style thumping on our second night.
— We occasionally expected our toddler not to be a toddler. We never overtly lost our cool when, say, Hunt threw himself on the ground for no apparent reason as we went to show him his first view of the ocean, but we did catch ourselves snapping at each other from the stress. What it taught us: Time-outs are good for adults, too.
But once he reached that beach, his eyes widened, his jaw dropped and he was more ecstatic than I'd ever seen him. He rushed to the water's edge and stopped to let the waves lap his little feet, then reached willingly - for the first time ever - for my hand to guide him. I'd been studying Spanish for the trip, so when another little boy approached with toys, I was able to ask in Spanish if my son could play with him. The two played in the sand with no language barrier — toddlers don't need words to understand meaning.
I don't know if the trip was as good for Hunt as I'd hoped. But one thing is certain: It was good for me.