Jetstar passenger accuses airline of 'slut shaming' her for crop top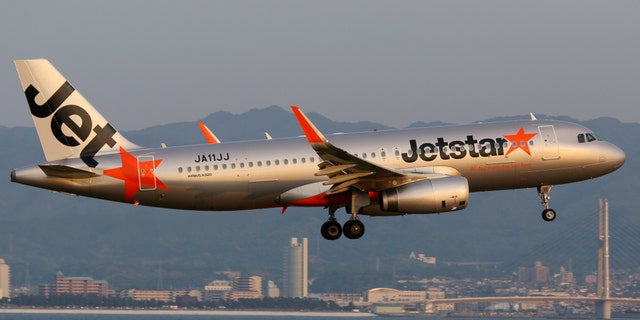 A female Jetstar Airways passenger says she's "disgusted" with the airline after a flight attendant allegedly made comments about her travel outfit being "inappropriate."
In an open letter to the Australian airline posted on Facebook, Shoshana Strykert claimed the incident took place on a Feb. 8 flight to Brisbane, en route to visit her mother in the hospital.
Soon after boarding the plane, Strykert says a flight attendant singled her out for wearing a black crop top on the flight.
LUFTHANSA COMES AFTER PASSENGER WHO TRIED POPULAR 'HIDDEN CITY' FLIGHT HACK
"The flight attendant told me that what I was wearing was inappropriate," Strykert wrote in a Feb. 11 post. "She then told me, 'Do you see any men walking around with their shirts off?'"
Strykert went on to claim that the Jetstar staffer continued to chide her, asking if she had a T-shirt to put on instead, and offered her a blanket.
"Everybody on the plane was looking at me I was so embarrassed and shocked. A woman sitting behind me, felt sorry for me so she offered me her jacket," Strykert wrote online. "So thank you Jetstar, for slut shaming me and then offering me this in return. I'm so disgusted."
FOLLOW US ON FACEBOOK FOR MORE FOX LIFESTYLE NEWS
The disgruntled Jetstar passenger also attached a letter from the carrier's Customer Care team to her Facebook post, detailing that she would be sent a $50 AUD voucher for her troubles for a future flight.
"It is always disappointing to learn that one of our customers is unhappy with our service but without this feedback, it's much harder for us to identify where we need to improve so we genuinely appreciate your comments," the message read.
CLICK HERE TO GET THE FOX NEWS APP
Though representatives for the carrier did not immediately return Fox News' request for comment, they did offer a statement to USA Today regarding the allegations.
"We've called Ms. Strykert to better understand the situation and (apologize) if she felt that she was treated unfairly by our staff. We are investigating what happened to find out if the situation could have been handled differently and have passed Ms Strykert's feedback to our teams," a rep told the outlet. "We're sorry that this interaction spoiled Ms Strykert's journey and have provided a travel voucher as gesture of good will."