JetBlue's new 'Blue Finest' aircraft honors New York City police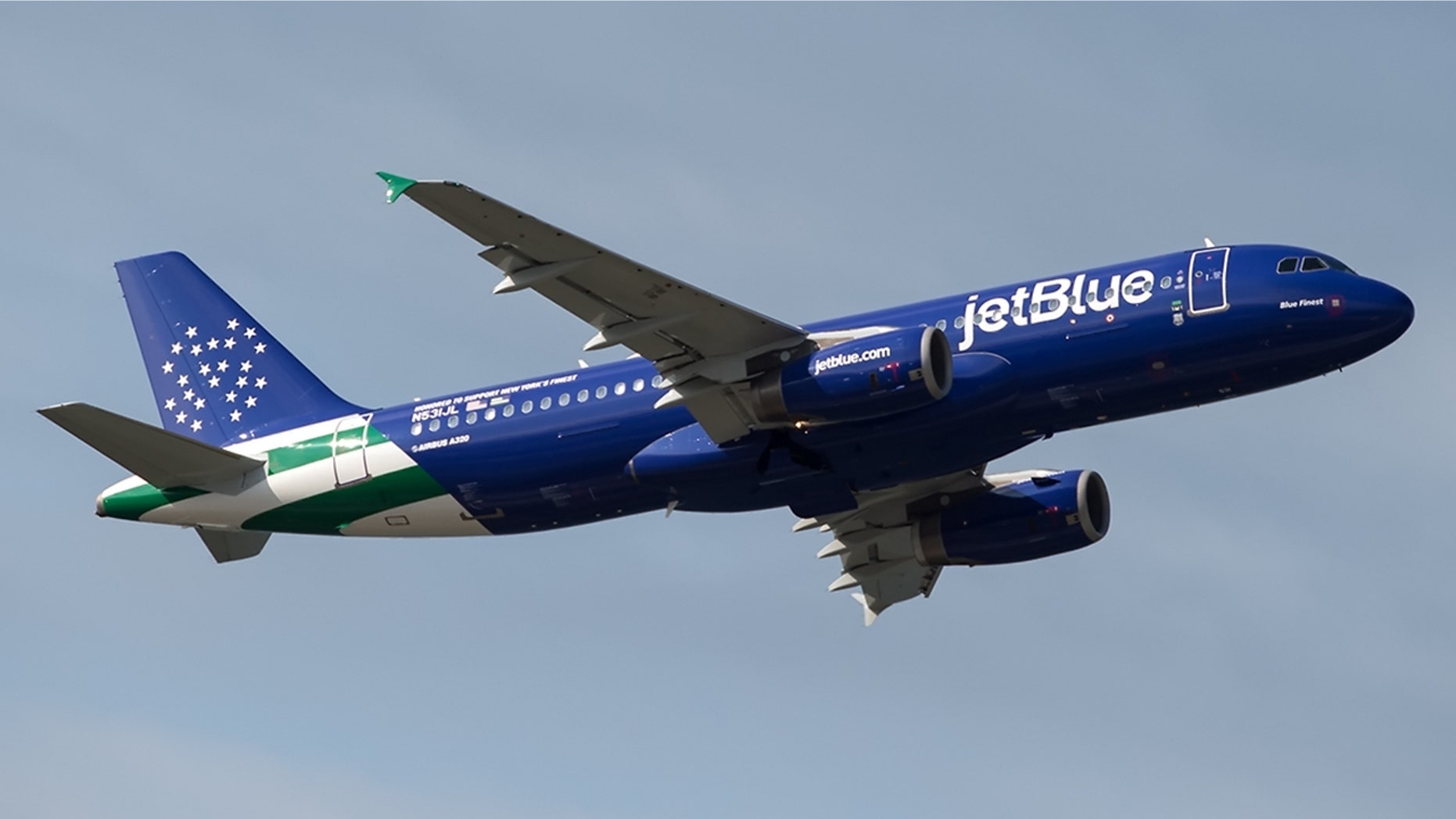 JetBlue unveiled a brand-new aircraft paint scheme in honor of the New York Police Department.
Named "Blue Finest," the Airbus 320 is decked out in the colors of the NYPD flag, complete with stars along its tail and green-and-white stripes toward the rear of its fuselage. There's also a badge and shield by the forward boarding door.
The flag — which is flown outside every precinct in the city next to the American flag — features 24 white stars representative of the 23 separate towns and villages that eventually became New York City, plus one star for the city itself, according to a JetBlue press release.
JETBLUE GOING TO EUROPE? AIRLINE HINTS AT ADDING LONG-RANGE ROUTES
"I want to thank everyone at JetBlue for honoring the hardworking men and women of the NYPD with this incredible symbol of partnership and professionalism," said NYPD Commissioner James P. O'Neill in a statement. "It is an impressive interpretation of NYPD hallmarks and will spread our commitment to public safety far beyond New York City."
"Blue Finest" will join JetBlue's fleet of planes flying through the airline's network of 101 cities, including several other service-focused aircrafts such as "Blue Bravest," dedicated to the FDNY, and "Vets in Blue," honoring past and present veterans.
"As New York's Hometown Airline, supporting our local public servants including the NYPD is part of our DNA," said Joanna Geraghty, JetBlue's EVP for customer experience, reports USA Today. "Our mission of inspiring humanity is brought to life each day through our crewmembers, many of whom are also former public servants. This mission also lives in the work the NYPD does to keep our communities safe."
FOLLOW US ON FACEBOOK FOR MORE FOX LIFESTYLE NEWS
The unveiling of "Blue Finest" took place at a special event at JFK airport Monday in front of crewmembers, many of whom had worked with the NYPD, according to USA Today.