It's not just you, TSA lines are getting longer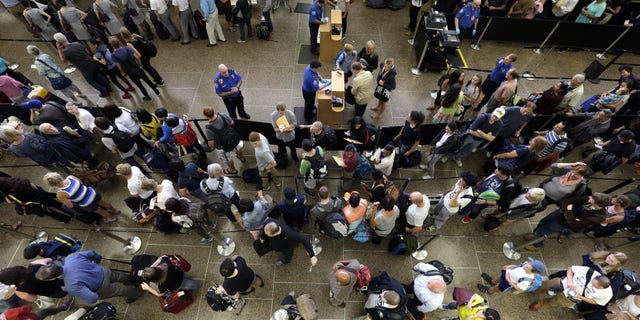 If you're accustomed to showing up to the airport an hour before your domestic flight, there's a good chance you'll just be mid-way through the TSA security line during your final boarding call.
Arriving two or even three hours early — the recommendation of some airlines — might not give you a fighting chance to make it to the gate on time.

If you haven't been to the airport lately, be braced for security lines that are worse than the ones you've encountered during the holiday season, even if you're traveling at an odd hour on an off-peak day. And for those frequent travelers, you're not imagining it: TSA lines during the past few months have been growing longer, causing missed flights and delayed departures.
A combination of fewer Transportation Security Administration screeners, tighter budgets, and new checkpoint procedures is compounded by a greater number of travelers causing the absurdly long lines, the New York Times explains.
Come summer, airports and airlines are fearful of a complete logistical meltdown, despite TSA announcing it will hire 768 more officers and assign them to the busiest airports by mid-June. The agency has even made a plea to congress, asking for more money to ramp up staffing efforts.
Frustrated passengers have taken to Twitter to show security lines snaking out to baggage claim or starting near the parking garages at some airports. Even the airlines and airports are losing patience:American Airlines has called the lines "unacceptable."
During a week in March, nearly 6,800 American Airline passengers missed flights, because of checkpoint delays, with the most notorious hold-ups in Miami, Atlanta, Dallas, Philadelphia, and Los Angeles. Now, some airports are going so far as to threaten replacing TSA agents with private security personnel.