Italy plans quake-resistant museum to protect Michelangelo's David, historic works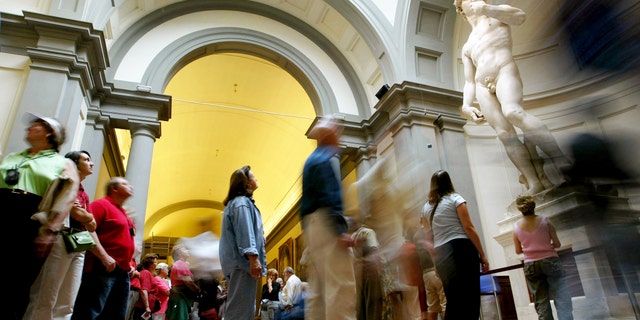 In the wake of growing concern about seismic activity in the Mediterranean region, scientific experts in Italy are looking to construct a new museum that could resist earthquakes.

According to The Art Newspaper, the debate over the relative stability Michelangelo's "David," which is currently located at the Galleria Dell'Accademia in Florence, surfaced once again following a series of devastating earthquakes that shook the center of the country last year killing nearly 300 people and destroying several cultural sites including the 14th-century Basilica of St Benedict in Norcia.
17 STOLEN MASTERPIECES SAFELY RETURNED TO ITALIAN AUTHORITIES
The David, Michelangelo's 17-foot marble masterpiece, weighs over five tons and experts have warned that the statue is at risk of becoming irreparably damaged even if it's moved slightly, either from construction or a natural disaster. In 2014, geoscientists from Italy's National Research Council discovered that David has weak ankles—specifically, there are several fractures and cracks at the narrow base of the iconic statue that could cause it to snap and buckle under its own weight. At the time, the experts warned that if the statue is tilted just a few degrees, the "stress fractures" could move further up the David's leg.
Millions of tourists flock to Florence annually to take in the city's historic treasures and the David isn't the only piece of art history in jeopardy.
The Opera di Santa Maria del Fiore, a 700-year-old organization charged with protecting the Duomo and its surrounding monuments, will carry out a comprehensive analysis of Giotto's Campanile—the freestanding bell tower in the Piazza del Duomo—as well as study the relative soundness and seismic stability of the cathedral's foundation and construction materials.
FOR THE LATEST TRAVEL FEATURES FOLLOW FOX LIFESTYLE ON FACEBOOK
The study is slated to be completed by November of this year, at which point the committee will make recommendations for how best to protect the landmarks in Florence's city center.
To fund the expected projects, the Italian government submitted an official request to the European Union for money to support ongoing reconstruction efforts. Last month, the European Commission agreed to provide 30 million euros—the highest sum the organization can offer—to help Italy's historic restoration and preservation efforts.