Island nation of Palau only wants rich tourists to visit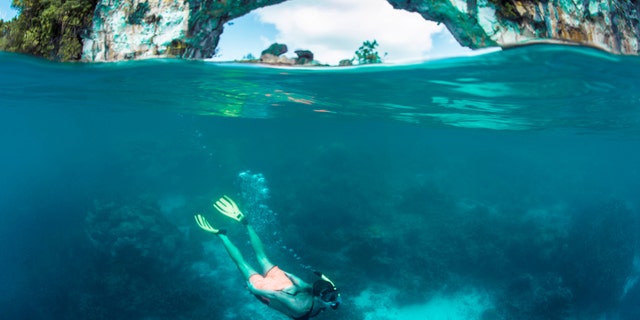 NEWYou can now listen to Fox News articles!
If you're planning a trip to see the coral reefs and picturesque rock islands of Palau in the Pacific, you may want to bring a few extra bucks. Make that a stack of hundreds.
Palau's president Tommy Remengesau has proposed a new law that would make it very difficult for travelers on a budget by allowing on five-star hotels throughout the nation's islands.
According to The Telegraph, Remengesau is pushing for a "quality rather than quantity" tourism strategy.
ENVIRONMENTALISTS SLAM NICKELODEON'S PROPOSED UNDERWATER THEME PARK
"It's kind of a win-win situation for Palau and the investor," Remengesau told reporters earlier this month, as hotels would be rewarded by the government for bringing infrastructure to the island with "the necessary tax breaks and exemptions."
But are tourists without deep pockets losing out? The president's proposal comes amid heightened complaints in recent years of an overwhelming influx of Chinese tourists.
Palau had 141,000 visitors in 2014– up 34-percent from 2013. By February 2015, mainland Chinese visitors had increased by more than 500-percent to 10,955, according to The Straits Times.
That's more than half of Palau's total population.
Tourism accounts for the the majority of Palau's GDP at 85-percent but the "damage" to the sudden increase of visitors was proving to be costly, according to some locols. The influx of tourists may lead to the destruction of coral reefs, general overcrowding and wildlife disturbance on the islands.
Amid growing concern, Palau's government cut the number of charter flights from China in 2015 by half. Accordingly, "while the numbers went down, the actual tourist spending went up," said Remengesau.
"Do we want to control growth or do we want growth to control us?" he questioned in 2015. "It will be irresponsible for me as a leader if this trend continues. I am not only looking at the present but, as a leader, I am looking after tomorrow."
FOR THE LATEST TRAVEL FEATURES FOLLOW FOX LIFESTYLE ON FACEBOOK
Now, it appears the president is satisfied with his decision to control the amount of tourists who visit the island.
"It confirms our direction [to attract] less tourists who spend more which equates to more tax dollars," he said. "We [will] go for quality rather than quantity... to create a goal of high-end, high-value tourism."
There are currently just a handful of five-star resorts in Palau, many of which are on the populous island of Koror.