Irate traveler stripped at airport to protest slow security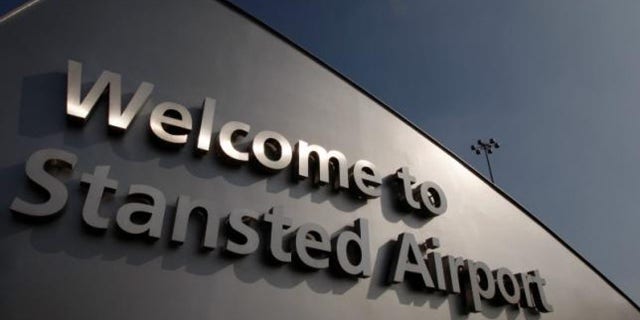 A female passenger on her way to a job interview in Barcelona became so exasperated by the slow security procedures at London's Stansted Airport that she started to strip --before being arrested.
Irish-born graduate Eimear Ni Ghiallgairrh, 29, whipped off her skirt in the customs area in protest over delays. She was left standing in her black tights before the officers attempted to preserve her modesty and prevent any further revelations.
The trained architect claims she broke her arm in the scuffle as she was arrested. She was held in a cell for 12 hours and ripped up a police code of conduct handbook, a court heard.
Ghiallgairrh pleaded guilty to disorderly behavior and criminal damage when she appeared before Chelmsford magistrates this week.
Prosecutor Karen Phillips told how Ghiallgairrh was running late for a flight to Ireland and became "frustrated at the situation" as she was held up in security.
Miss Phillips added: "She refused to be searched, became heated, got agitated and removed her skirt, standing in her tights.
"Members of the public around were distressed as she was undressing. She also banged on the desk angrily."
But Ghiallgairrh blamed the incident on the overzealous security.
She said: "I was becoming increasingly frustrated by the airport staff. A police officer came from behind me as I leant casually on the table, I turned around to hear him tell me to calm down.
"He said 'you're on drugs. I said I'm not on drugs. He said I shouldn't talk to him like that because he had a machine gun.
"I asked why he would need to use a machine gun on me. He said that if I didn't shut up he was going to arrest me. I asked 'Why? What for?
"He aggressively handcuffed me and shouted "section four" while lifting me up by my wrist, breaking my thumb as a consequence. I screamed in pain."
The architect's arm was broken when two officers arrested her. She was fined $300 after pleading guilty to disorderly behavior and criminal damage.
District Judge John Woollard fined Ghiallgairrh $160 with $40 victim surcharge and $100 costs as she sat with her arm in plaster.
He added: "I have to take into account the stress you were in which led to your behavior and the fact you were surrounded by thousands of other people also stressed."
Ghiallgairrh has been in the U.K. for 18-months and the court was told she is planning on going back to Ireland.
This story appeared on news.com.au.