Inside the 'Netflix and Chill' Airbnb
If you don't know what the Internet meme "Netflix & Chill" is by now, we'll do you a favor and fill you in.
Basically, it's a thinly-veiled invitation to come over to someone's house, start watching a movie and then get a little physical.
Now a new Airbnb listing has now brought the meme to life with a themed one-bedroom New York City apartment that goes for $400 a night.
It comes with a fully stocked mini-bar, a bed draped with a Netflix branded blanket and pillows, and access to a Netflix account if you don't have one.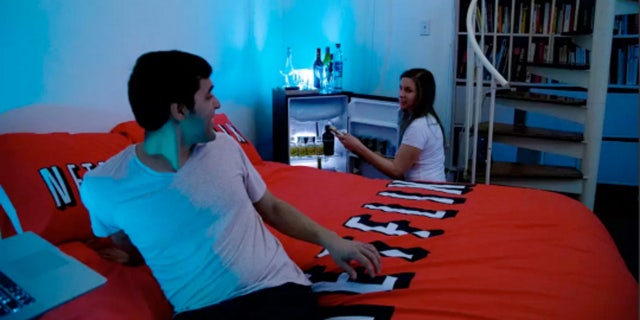 It is the brainchild of ad man Tom Galle and Art 404, a performance art and branding company.
"If you want to strike a nerve on the Internet and really get the people to get your idea as a meme, you want to do it right. So there were a few elements we wanted to get in there that really made it right, the bed is unusual and the rest automatically came together," said Galle.
That includes details like Champagne and plenty of other cocktail fixings, an HD projector with surround sound speakers around the bed, matching robes and stellar city views of the West Village -that is, if you can pull your eyes away from the screen.
It's got an added bonus to get your partner feeling romantic. "You have custom hue lights to get the light to the mood you want, also controllers that go to an Apple TV if you want to use your laptop for music," he said.
Galle says the Airbnb is only available to couples and on Saturdays--although they did make an exception for Valentine's Day, which last weekend fell on a Sunday.
So was the space moody enough to lure in couples? Galle said the Airbnb hasn't yet been rented--even for Valentine's Day, but it's ready for takers.