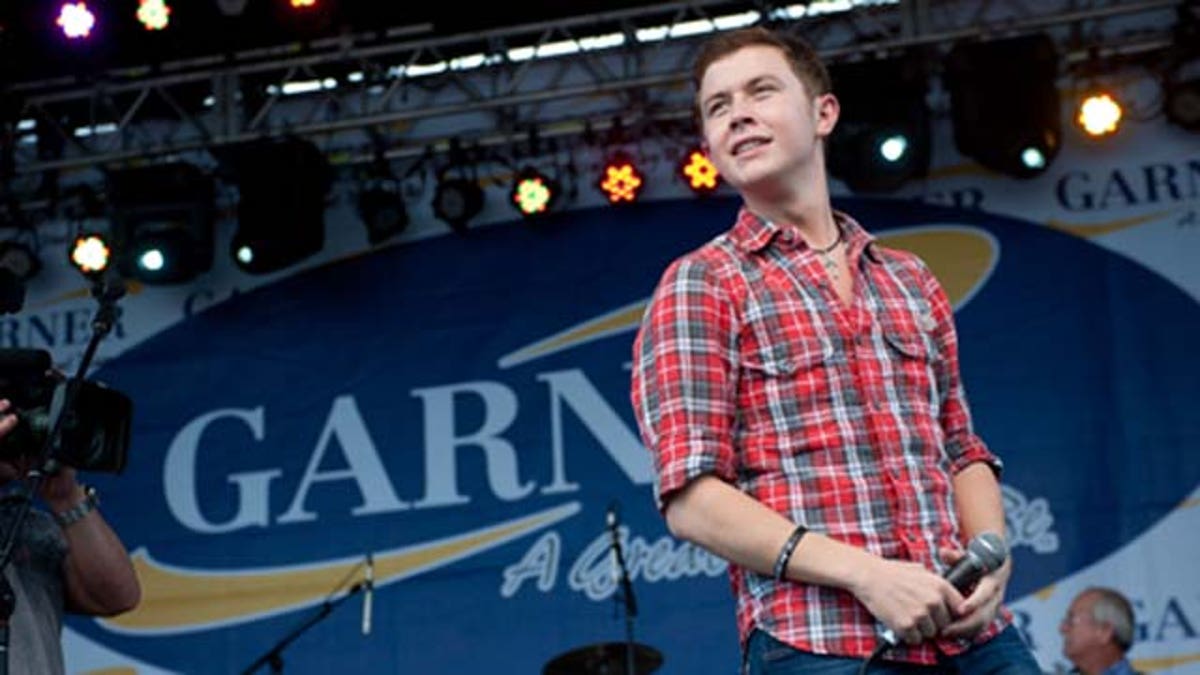 Thanks to Fox's hit singing competition show, Scotty McCreery's turned from an average teenager with a big dream, to a true-to-form "American Idol."
McCreery, 18, seemingly overnight became a country star after being crowned "Idol's" season 10 winner. His coronation single "I Love This Big" peaked at number 15 on the Billboard Country Songs list.
The young star's success is evident as his first studio album, Clear as Day, is already making history by hitting the top of the Billboard 200.
According to Billboard.com, McCreery "is the first country act to debut at number one with their first studio album." This feat has also made him the youngest man to lead the chart with a debut release.
Apart from his achievements, the "Trouble With Girls" singer is enjoying a life that sets him apart from other people his age.
While travel for most 18-year-olds involve family trips and college tours, McCreery rocks out arenas across the country. However, the down-to-earth teen sticks to his roots, preferring to return to Outer Banks in his home state of North Carolina when in need of a respite from his hectic schedule.
This 200-mile string of islands along North Carolina's East coast is not only the place with the Wright Brothers first took flight, but also a place that holds many childhood memories for Scotty McCreery.
Scotty McCreery: Outer Banks, North Carolina is where I spent a lot of my summers growing up. I've got a seashell on the top of my dresser to remind me of some of the good times. I think there's actually a picture in a magazine recently of me, my sister, and my mom and there's a rainbow behind us in Outer Banks. We'd go down to Jockey's Ridge, which is a 100-foot tall dune and eat at a lot of cool places.
Fox411: What kind of places?
McCreery: Stack 'em High was a place we'd go and get huge chocolate chip pancakes. We go to this pizza place called Pizzazz. We've gone there every time we've gone to Kitty Hawk, it's like our little stop.
Fox411: You seem to know the Outer Banks intimately, what activities do you recommend?
McCreery: There's always a lot of stuff to do. We never went hang gliding. We wanted to do that off Jockey's Ridge but I think I was a little too scared to do that. But we're always in the ocean and hanging out.
Fox411: Family seems to be a crucial element for a vacation at Outer Banks for you.
McCreery: My grandma used to have this little place, we called it "the tin can." She had a little camper type thing and we'd go there for the summers and hang out. It's not one of those commercial beaches where there are tall buildings behind the beach. It's just a nice place with cottages, sand and water. The family has been split apart and on different sides of the country. So it'll be nice to get together and we'll be heading to the Outer Banks enjoying ourselves, bring the fishing pole and have a good time.
Fox411: All families have a good fishing story, care to share one?
McCreery: They were fishing, they hadn't caught anything all day and they'd been fishing off the pier, and then all of a sudden my uncle caught one and he was reeling it in and then my granddad got one and was reeling it in. They were getting it and it was a heavy one, but then they realized they were both caught on each other's lines and they didn't get anything.
Fox411: Other than a fishing pole, what do you recommend to bring?
McCreery: It depends on who you are. If you're a surfer bring your surfboard. I was always watching the "Jaws" movies, so I was scared to death going there. But, just bring family and couple beach towels.
Fox411: Sounds very relaxing. What's on your iPod while at the beach?
McCreery: Very chill country music, not the up-tempo, rocking stuff, just the mid-tempo, slow songs that will rock you right to sleep.
For more N.C., check out our Charlotte, Raleigh, and The Piedmont vacation guide >>