Hurricane Sandy grounds Northeast air travel; normal operations could be days away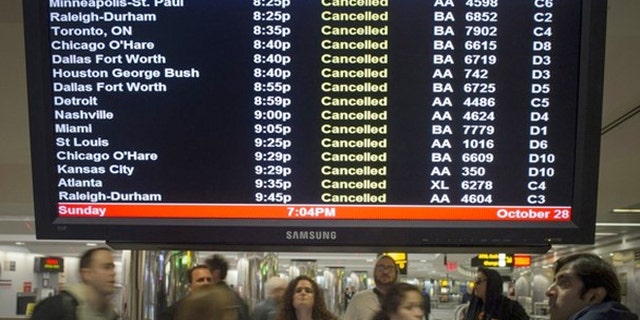 NEWYou can now listen to Fox News articles!
NEW YORK – Hurricane Sandy brought air travel to a halt in the Northeast Monday, grounding thousands of flights and upending travel plans across the globe. Planes and passengers are likely to remain stranded Tuesday and it could be a number of days before airport operations are back to normal.
According to the flight-tracking service FlightAware, nearly 12,500 flights had been canceled for Monday and Tuesday, almost all related to the storm.
Major carriers such as American Airlines, United and Delta cancelled all flights into and out of three area airports in New York, the nation's busiest airspace. About one-quarter of all U.S. flights travel to or from New York airports each day. So cancellations here can dramatically impact travel in other cities.
Delays rippled across the U.S., affecting travelers in cities from San Francisco to Atlanta. Disruptions spread to Europe and Asia, where airlines cancelled or delayed flights to New York and Washington from cities that are major travel hubs — including London, Paris, Tokyo and Hong Kong.
Sandy caused Eric Danielson to miss his first day of work at Langley Air Force Base in Virginia. He thought he'd be looking at a two-hour layover in Hartsfield-Jackson Atlanta International Airport on his way from San Francisco to Norfolk, Va.
But Sandy changed his schedule. "Now it's beginning to be a 28-hour layover until tomorrow," he said.
By early afternoon, the storm's winds had strengthened to 90 mph and had already knocked out power to tens of thousands of people. Sandy was 110 miles southeast of Atlantic City, N.J., and had turned toward the west, as forecasters feared. Sandy is on track to collide with a wintry storm moving in from the west and cold air streaming down from the Arctic.
Even if storm damage is minor it could be a week before operations are normal at major East Coast airports, said Angela Gittens, director general of the Airports Council International, a trade group for airports worldwide.
"The storm has such a wide swath and so many major airports are involved that it's going to take some time (to recover) because those airplanes are so far away," said Gittens, who served as aviation director at Miami International Airport Dade during several hurricanes from 2001 to 2004.
So far there have been 13,785 flight cancellations as a result of Hurricane Sandy. The cancellations have already surpassed those from last year's damaging Hurricane Irene. They're now on par with a major winter storm in early 2011. In that storm, 14,000 flights were scrapped over four days.
Airports in the metropolitan New York City area are open, but air carriers are not operating.
The Port Authority of New York and New Jersey said Monday that travelers shouldn't even try to go to Kennedy, Newark Liberty, LaGuardia and Stewart airports.
Businessman Alan Shrem was trying to return home to Boca Raton, Fla. His Monday morning Cathay Pacific flight from Hong Kong to New York's Kennedy airport was cancelled.
He learned he could be stuck in Hong Kong for nearly a week because the next available seat was Nov. 4. He was put on a waiting list for seats that could become available earlier.
"They just say: Yeah, it's a pretty big waiting list," said Shrem, throwing up his hands. In the meantime, he'll have to fork out $400 a night to continue staying at a nearby hotel. The airline won't pay for accommodation for stranded passengers if delays are weather related.
JetBlue Airways Corp. cancelled 1,200 flights for Sunday through Tuesday. The airline is hoping to resume flights at its Kennedy airport hub Wednesday, but is worried about flooding of the airport's runways since they are all basically at sea level and near bodies of water, according to Rob Maruster, the company's chief operating officer.
Delta Air Lines Inc. has canceled 2,100 flights over the three days. American Airlines has scrapped 1,000 flights, including 260 on regional affiliate American Eagle.
The impact on airline's bottom lines is unclear. Many of the customers on flights currently being cancelled will reschedule later on, so the airlines will still collect the fares. But the cost of parking planes for days, along with potential damage, will undoubtedly cost airlines millions.
Travelers overseas could wait days to get to the East Coast of the U.S. All flights from Paris to Boston, New York, Philadelphia and Washington — a total of 14 — were cancelled.
Frankfurt airport cancelled 12 flights, with German carrier Lufthansa scrapping three to the Northeast and one out of Newark. British Airways had to cancel all its flights to and from New York, Newark, Baltimore, Washington DC, Boston and Philadelphia — a total of 20.
Eight flights out of Tokyo's Narita International Airport to New York, Newark and Washington were canceled Monday.
Hong Kong's Cathay cancelled its two daily flights to New York for Monday and Tuesday. Air India said its daily flights to Newark and JFK had been halted since Sunday.
South Korean flag carrier Korean Air delayed a flight scheduled to leave Incheon International Airport for JFK on Monday by 22 hours. Asiana Airlines delayed its JFK flight from Seoul by 26 hours.
___
David Koenig in Dallas, Kate Brumback in Atlanta, Kelvin Chan in Hong Kong, Lori Hinnant in Paris, Danica Kirka in London and David Rising in Berlin contributed to this report.