Hurricane Sandy forces Halloween festivities to be canceled or postponed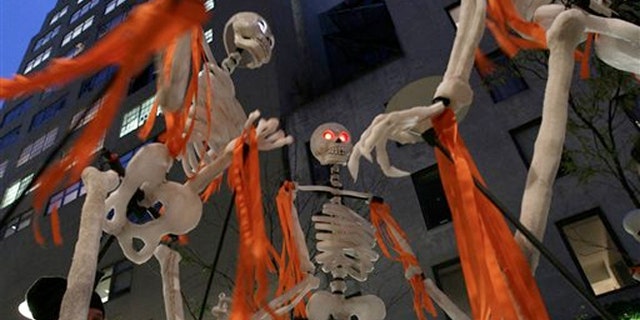 NEW YORK – Booooo! Not even the ghosts and goblins are safe from Sandy.
In hurricane-swept cities and towns along the Northeast, Halloween festivities are being canceled or pushed off until a later date.
In New York City, where large parts of lower Manhattan are still without power, the annual Village Halloween Parade scheduled for Wednesday has been canceled. Mayor Michael Bloomberg, citing resource issues, said the event, which usually draws 50,000 to 60,000 wildly dressed residents and tourists, would be canceled for the first time in its four-decade history.
"Unfortunately, we just cannot spare the manpower from the NYPD and other city agencies to host the annual Greenwich Village Halloween Parade, so we are postponing it to a later date sometime next week," the mayor said. "We'll work tomorrow and figure out what date makes sense given the resources the city has.
This year's parade theme was "Tick tock" and the final year of the Mayan calendar, with "visions apocalyptic."
In New Jersey, Gov. Chris Christie tweeted that he will decide on Wednesday if the conditions are unsafe for trick or treating.
"If conditions are not safe on Wednesday for Trick or Treating, I will sign an Executive Order rescheduling," the governor wrote.
In a news conference, Gov. Christie noted that, "We are in the midst of urban search and rescue. Our teams are moving as fast as they can."
In the New Jersey towns of Cherry Hill, Salem City, Maplewood, Halloween is being pushed to Friday. Maple Shade and Collingswood are shifting Halloween to Saturday. Chagrin Falls, Ohio, outside Cleveland, also hit badly from Sandy, is celebrating on Sunday.
But there are places where the ghosts and goblins will be out in full force. In Philadelphia, Halloween will go on as planned, as well as in Salem, Mass., the location of the annual Halloween bash.
Kate Fox, head of the city's tourism agency, said an estimated 50,000 costumed revelers are expected in the city on Wednesday for events culminating with evening fireworks over Salem Harbor.
Fox said the storm caused some power outages and forced a few attractions to close temporarily, but all were expected open for Halloween.
The festivities bring to a close the month-long "Haunted Happenings" celebration which generates approximately $25 million annually for the city where the famous Salem Witch Trials took place in 1680.
The Associated Press contributed to this report.