'Hunger Games' theme park coming to Atlanta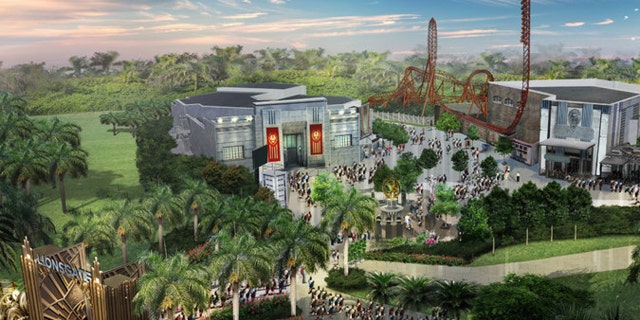 Fans of the "Hunger Games" series will soon be able to act out their own post-apocalyptic fantasies with the opening of a Lionsgate theme park in Bartow County, Georgia.
Avatron Park has inked a deal with Lionsgate Entertainment to license content from the studio's most popular franchise for the $750 million property.
"This is going to be a first-of-a-kind park," Avatron Park CEO Dave Garrett told WSB-TV Atlanta. "It's going to be totally interactive, immersive. It's technology and entertainment. Those are the two critical words that we have to answer correctly each time we look at something."
According to Garrett, the park will be unlike traditional theme parks with rides like roller coasters. Instead, the property will use new technology to create a fully immersive experience through virtual environments. Bartow is about an hour north of Atlanta.
Lionsgate is a relatively new player to the theme park space. Unlike Disney or Universal which operate their own themed properties, Lionsgate plans to utilize the popularity of their movies like Warner Bros., which licenses its characters like Batman and Bugs Bunny, to theme parks such as Six Flags. In partnership with Dubai Parks and Resorts, the company recently construction a $3 billion entertainment complex between Abu Dhabi and Dubai in the United Arab Emirates.
Avatron will be the first U.S. property to host "Hunger Games" themed attractions. Other movie franchises that could make an appearance include the "Divergent" and "Twilight" series as well as dance shows based on the "Step Up" movies. Despite the decidedly un-kid friendly theme of kids killing kids, the "Hunger Games" series is likely to draw big crowds, according to Garrett.
Says the CEO, "'The Hunger Games' has an enormous following, and anyone that doesn't believe it, just put it in Google."
Avatron Park plans to open in 2019.