How to take a $16,000 luxury flight for less than $500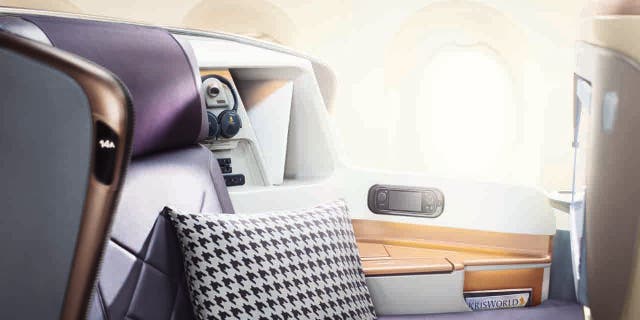 Singapore Airlines is ranked as the best in the world, so it makes sense that their first-class services are enveloped in the sleek veneer of absolute luxury—and an accordingly eye-watering price.
But frequent flier and travel blogger Sam Huang of TopMiles managed to snag a $16,000 round-the-world ticket for just $480 plus 119,000 of his KrisFlyer miles. ( KrisFlyer miles are gathered through Singapore Air's frequent flier program. They can be earned through certain credit cards and retail or hotel purchases, as well as by flying Singapore or partner airlines.)
The ticket included two multi-day stopovers, taking him from Los Angeles to Tokyo, Singapore, and Sydney in the most opulent digs the sky has to offer.
Perks of Huang's trip prior to takeoff included a Christmas-themed lobster-and-champagne dinner; private security line and immigration checkpoints for first-class passengers; access to an exclusive airport lounge; and even a separate jetway for boarding.
And then there's the in-flight experience itself: His suite on the A380 was a private cubicle with floor-to-ceiling walls, all set up with Ferragamo amenities and leather furniture.
More From Travel + Leisure
The Christmas flight that Huang took even decked out the suites in holiday decorations. The food was another top-tier multi-course experience; Huang selected a steak baked in a steam oven to retain moisture.
Finally, the bed. As the Suites Class was fairly empty on his Christmas Eve flight, Huang was able to ask for an upgrade to a double bed, complete with turndown service and rose petals scattered across the covers. (For that last touch of comfort, there's even a teddy bear to sweeten dreams.) A 23-inch personal television and noise canceling headphones complete the picture.
The trick to getting all this, of course, is racking up enough miles to make the cost a bit more tenable.