How to survive the ultimate national park road trip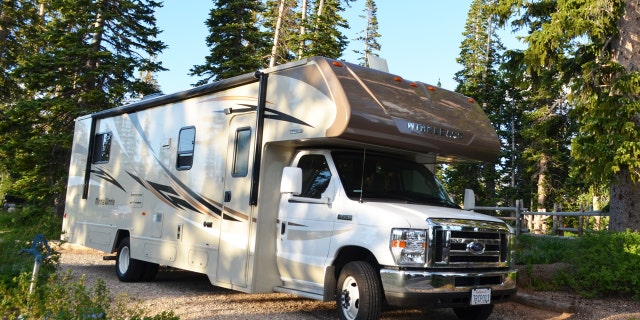 Our teens had visited the top theme parks in the country, but they hadn't experienced the grandeur of our national parks in the West. With the National Park Service commemorating its Centennial Anniversary on Aug. 25, this was the perfect year to take them. So we piled into an RV and saw three national parks and a national monument in seven days. You can, too.
Our first stop: Las Vegas. You won't find any natural wonders there, but it's a hub for many national parks in the Southwest: to the west, California's Death Valley; to the east, Arizona's Grand Canyon; to the north, Utah's Zion.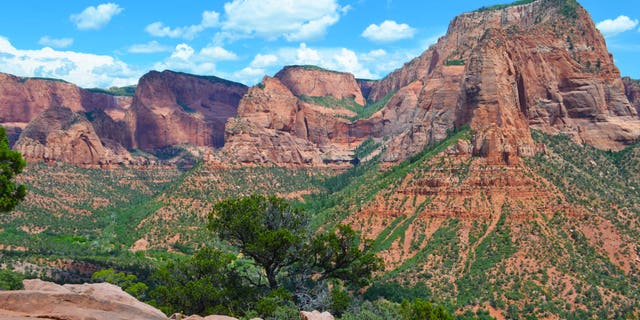 Sin City is also a great place to pick up an RV, since there are nearly a dozen rental companies competing for your business. We chose Apollo RV, a 30-year-old company operating in Australia and New Zealand that's looking to break into the U.S. market. Our 31-foot Winnebago "Minnie Winnie" fit our family of four comfortably, and before we knew it, we were heading north to Utah.
We followed the "Grand Circle Tour," an area of Southern Utah and Northern Arizona that includes Zion and Bryce Canyon National Parks and the Cedar Breaks National Monument.
Zion National Park, Utah's first and most popular national park, featured sheer red cliffs, narrow slot canyons – and a river ran through it. The scorching summer day and long shuttle lines had us wondering if this was a national park or a Disney park, but the Riverside Walk at the Temple of Sinawava gave us a chance to wade in the Virgin River to cool off.
Tip: To get away from the crowds, head to Kolob Canyons, Zion's northwest section, for a scenic drive and hiking.
Moving on … What a difference a day made! Cedar Breaks National Monument, a hidden gem 90 minutes north of Zion, is noted for its red rock amphitheater, ancient bristlecone pines, alpine meadows, blooming wildflowers and, at 10,000 feet above sea level, cool temperatures – perfect for sleeping in the RV (the metal box heats up in the desert).
The mountain air and small crowds made Cedar Breaks our favorite stop. Our visit coincided with its annual wildflower festival and a summer star party where "Dark Rangers" pointed out Jupiter's moons, Saturn's rings, constellations and the Milky Way.
From Cedar Breaks we traveled 90 minutes east to Bryce Canyon National Park. Noted for its breathtaking rock columns, Bryce claims the largest expanse of hoodoos in the world. The Queen's Garden/Navajo Loop trail, billed as the "best three-mile hike you'll ever take," did not disappoint. We felt like we'd been transported to another planet.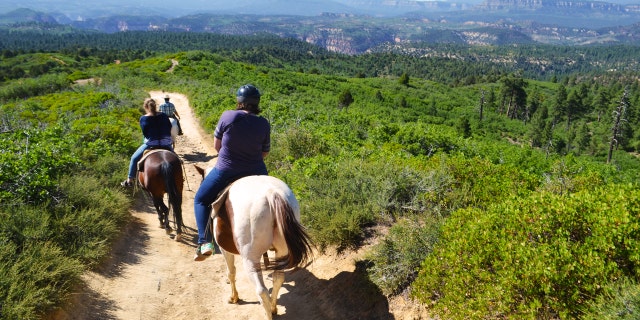 The longest drive of the Grand Circle Tour was 3 1/2 hours south from Bryce to Grand Canyon National Park, where a herd of bison ushered us to the North Rim. Fatigued from the week and previous hikes, we lounged on the Grand Canyon North Rim Lodge's sweeping patio, admired the view and listened to a Park Ranger geology talk.
Tip: Make an early reservation online for the lodge's historic dining room, with its floor-to-ceiling windows overlooking the Grand Canyon. We dined on baby back ribs, buffalo steak and scallops before watching the sun dip below the rim.
Park Tips
Purchase a Passport to get stamped at each park. Stamps and stickers aren't just for little kids; my teenage daughters couldn't wait to collect their passport stamps upon arrival.
National park campgrounds may fully book months ahead of time, but you can still find campsites at many private campgrounds outside the parks. We camped at Zion Ponderosa Ranch Resort just outside Zion, and our guided horseback ride on the resort's 4,000-acre ranch offered views of the park's Checkerboard Mesa as well as all the other national parks we visited during the "Grand Circle Tour." Private campgrounds also offer many amenities you often don't find in the national parks, such as electrical hookups, Wi-Fi and swimming pools.
RV Tips and Must-Pack Items
The "Minnie Winnie" wasn't very mini, but it was easy to drive. The rental company gave us a thorough overview of the vehicle and shared a detailed safe-driving guide with an easy-to-follow checklist of "must-dos" before we drove off.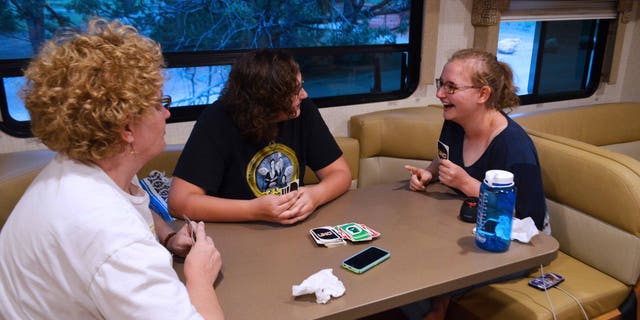 Bathroom and waste dumps weren't as bad as they're portrayed in movies. Our RV toilets flushed like any other, and a sensor light panel indicated when the tanks were nearly full. Every two or three days we connected a hose to the RV drain, placed the other end in the sewer and pulled the waste levers. Then gravity took over and flushed the tank, easy-peasy.
Tip: Buy a pair of kitchen gloves to handle the sewage drain hose.
Another tip: Pack an over-the-door shoe hanger and pop-up hampers. They're cheap and light, they pack flat and they keep the confined space of the RV neat and organized. Also, if possible, use duffle bags or soft-sided luggage to pack clothes; RV storage is at a premium, and the soft bags stow more easily.
Overall, our RV gave us easy and convenient access to the national parks and enabled us to go where and when we wanted. Our family of four saved at least 30 percent on what we'd have paid if we'd rented a car, stayed in hotels and eaten in restaurants.