How to gain access to the most exclusive hotel pools
It's the dead of summer, and you've booked a trip to your favorite destination—but your hotel's pool is teeming with tourists and their kids. Or maybe you're in your own metropolitan locale, and need a staycation.
Lucky for you, most exclusive hotel pools have loopholes that allow anyone to access them—here's how.
1. Gansevoort Meatpacking and Gansevoort Park Avenue, New York City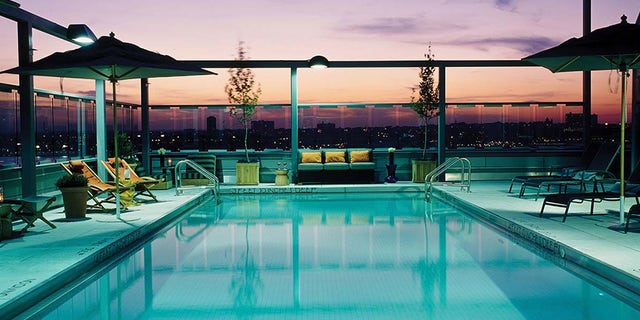 Loophole: The Daycation package (through July 30) includes poolside reflexology, a 30-minute rooftop massage, and a gift bag filled with gender-neutral beauty products—plus, all-day access to the hotel's pool at either its Park Avenue or Meatpacking District locations. Make sure to show up early to snag a deck chair.
Why you should go: Both hotels have a rooftop pool—a rarity for Manhattan—and offer some of the best views of New York City from above. As part of the package, you'll get a complimentary poolside cocktail to induce relaxation. The guests sharing the pool are New York's elite businesspeople and socialites, giving your stay an exclusive vibe.
2. Annenberg Community Beach House, Santa Monica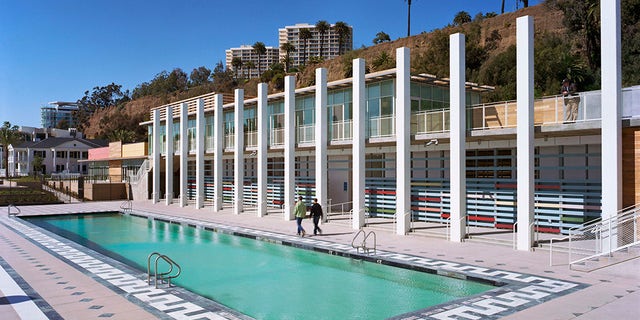 Loophole: Make a reservation. The Beach House is actually a public pool, but getting reservations can be tricky. They're only available 1–3 days before, and they go quickly. Plus, you have to arrive by 11 a.m. to redeem your reservation or you get put on the wait list. At $10 for the day, it's well worth the trouble.
Why you should go: Trimmed in tile with a marble deck, the pool is a beauty on its own. Add in the viewing deck inside the Pool House (which sits on the site of William Randolph Heart's paramour Marion Davies's demolished 110-room mansion), beach volleyball and tennis courts, and an oceanside café, and you have the ideal pool escape.
3. La Mamounia, Marrakech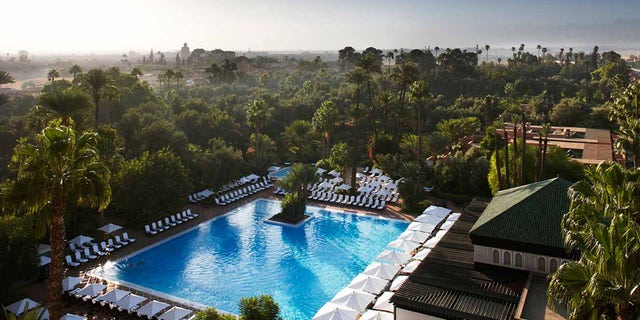 Loophole: Choose between the Detox Pass, the Spring Day Pass, or the Day Pass Pool. Each are about 1,500 MAD (approximately $150 USD), which gives you access to the pool, spa, tennis courts, and gym, as well as lunch at either Le Français or L'Italien by Don Alfonso.
Why you should go: The restaurants alone are worth the price of admission, but the quiet grounds of the upscale hotel are an added bonus. Not only that, but there's always a new exhibition in the hotel's art gallery that merits seeing.
4. Shoreditch House, London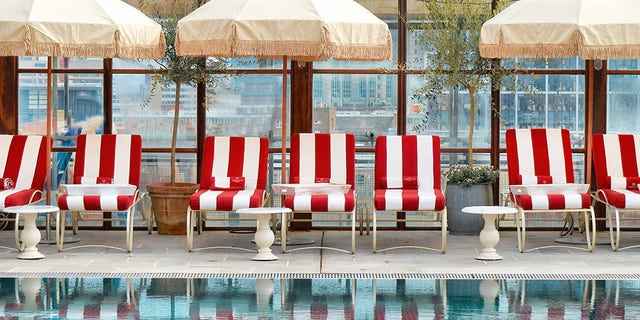 Loophole: Get to know someone with a Soho House membership—members can bring in guests anytime, but it's impossible to get in otherwise.
Why you should go: The exclusivity of being by the rooftop pool at the international private club's famed East London outpost should be enough, but the view is one of the best in the city. Cameras and phones are banned, which only elevates the rare experience.
Check out how to get into some of the most exclusive pools across the country.
More from Conde Nast Traveler
Condé Nast Traveler's Hot List 2015: The Best New Hotels in the World
Private Islands That Cost Less Than an NYC Apartment
The World's Most Dangerous Trips
10 Travel Gear Fails: So Bad, They're Genius