How not to break your neck sandboarding in Doha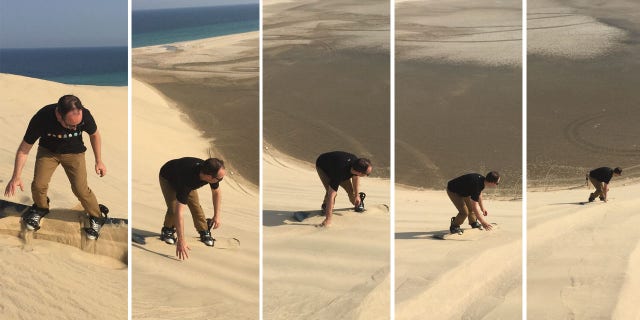 Standing on a board in the desert, contemplating my descent into dangerous terrain, I felt like Luke Skywalker hovering over the Sarlacc in "Return of the Jedi." While there was no gaping mouth with spiked teeth and no tentacled, probing tongue, I was staring down at something just as threatening. Well, to me anyway.
Sand.
There was no special reason. It's just that a five-minute encounter with sand can lead to weeks of finding it in even the most protected of crevices.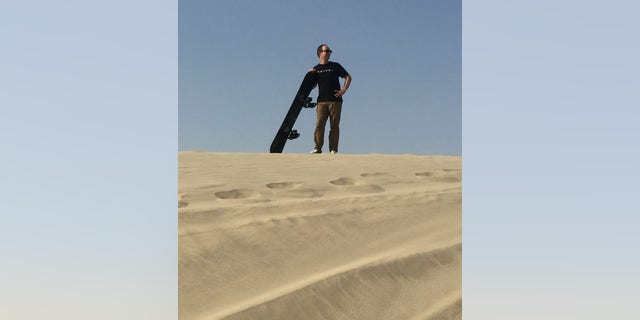 And strapped to a board atop a 100-foot dune in Qatar near the Arabian Gulf with the wind gusting, ready to make my first-ever sandboarding run — which I was excited for — it seemed likely I was about to encounter a lot of sand.
Sandboarding is a bit like snowboarding and a bit like surfing. It requires equipment and skills of its own (including, yes, a high tolerance of sand.)
Lon Beale is widely acknowledged as sandboarding's founder. Growing up outside of Death Valley in California's Mojave Desert, his childhood love for sliding down dunes on cardboard, plastic or really most anything evolved into sandboarding in 1972 when, as a 14-year-old, he started riding old water skis or skateboards with the trucks removed down the dunes. "It was pretty pathetic," Beale said. "You didn't get much of a slide or much speed or go very far. [But] it was still a lot fun."
"If it's a steep enough dune and you can get it to slide, it'll do maybe 10 miles an hour — where a sandboard on that very same ride will do 50 miles an hour."
Beale, now known as Dr. Dune, became the first manufacturer of boards dedicated for sandboarding. He also publishes "Sandboard Magazine" and is the director of Oregon's Sand Master Park, the world's first sandboarding park.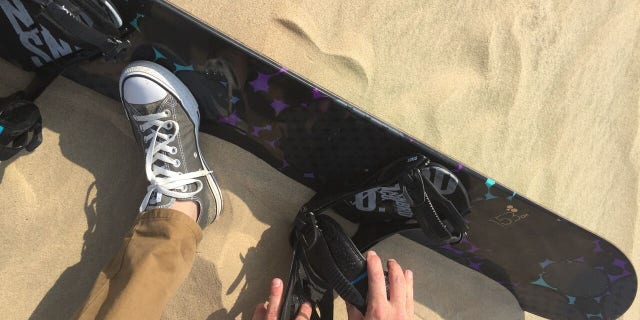 Sandboarding requires a board that's dedicated for the sport. It needs to be hard and dense, enabling it to glide over the sand, and curved up on the ends to allow air to pass underneath it. A snowboard's base is too soft for sand, which wants to grab the board. "Usually it won't slide at all," Beale said. "If it's a steep enough dune and you can get it to slide, it'll do maybe 10 miles an hour — where a sandboard on that very same ride will do 50 miles an hour." While travelers can rent boards at some spots, the safest bet is to bring your own. New sandboards start at around $150.
While the straps evoke a snowboard, you control a sandboard more like a surfboard, as the dynamics of riding on sand are similar to riding on water. "On a sandboard, all your weight's on top of your back foot. You want to stay more on the backside of the board," said Gabe Cruz, the reigning world and national sandboarding champion. Cruz was an avid 15-year-old skateboarder when his boss at a sweeping, striping and sealcoating company introduced him to sandboarding. Cruz found it was easier on his body and a better fit for the climate near his Oregon home. He was able to go faster and jump higher, too. "And skateboarding, you get in trouble everywhere you go," he said.
But I didn't interview Beale and Cruz until after I visited Qatar. So, strapped into the board, as I shuffled to the edge of the peak and started down the dune, I'd already made two mistakes:
I was riding a snowboard.
Even though I was on sand (lots of it!), I was trying to control the board like I was on snow.
But my run was still a lot of fun. Almost instantly, sand came up on the board to slow me down, but that lower speed probably helped me stay on my feet, and it gave me more time to enjoy the experience. Sure, the sand on the board was an annoyance when I had more confidence. But on my first ride, it was kind of like having training wheels.
So, I guess, thank you sand?
Other than the board and sandboard wax (to overcome friction and block static cling), the gear is optional: Beale suggests goggles or sunglasses to keep the sand out of your eyes when it's windy, and Cruz reduces the abrasion on his feet by wearing socks. And loose-fitting board shorts will help keep sand from getting stuck in your pants. "The sand is very soft, so helmets aren't necessary," Beale said. Likewise for elbow and kneepads.
With little essential gear, sandboarding is an easy and affordable sport. "It has every bit of potential to be as big as any other board sport," Beale said. "It's not limited to the climate. We don't have wait for the snow, we don't have to wait for the waves. The sand waits for us. Anytime you want to ride it, it's there." Beale said representatives from ESPN's X Games have talked to him about adding sandboarding, but he's not sure the sport is ready. Yet.
Beale estimates 30,000 to 40,000 people regularly sandboard worldwide (a figure that doesn't include dilettantes such as myself). While the sport is growing in the United States, it's at a slower pace than in other countries. "In Egypt, it's just gangbusters," Beale said, attributing it to the country's wealth of sand and lack of other board sports. Beale said he's also been shipping a lot of sandboards to Saudi Arabia. "All they have is sand and oil, and they know what to do with the oil," he said.
To sandboard, though, the sand has to be more than just abundant: the dunes need at least a 20-degree angle and the sand should be clean. Organic debris, dust and other contaminants create what's called dirty sand and lead to slower rides.
"The rain is probably the biggest factor why the sand is so good on the Oregon coast," Beale said. "It's very, very clean sand." Located in Florence, Ore., on the Pacific Coast just north of the Oregon Dunes Recreation Area, Beale's Sand Master Park offers lessons from current or former champions (including Cruz), board rentals and 40 acres of sculpted dunes geared toward all skill levels. A 24-hour board rental, wax and access to all of the park's dunes costs $16.
Elsewhere in the U.S., Beale suggests the shore of Lake Michigan, because of its superior sand quality, and Great Sand Dunes National Park in Colorado, which offers both board rentals and the tallest dunes in North America. "It's pretty intense, you get a lot of speed," said Cruz, who's taken his sandboard more than 40 miles per hour.
Further afield, Beale raves about the sandboarding in Egypt, especially in Siwa, a 746-mile drive west of Cairo. Located on an oasis near the Libyan border, it offers both giant dunes and ancient ruins. "It's like going back in time 300 years," Beale said. "They're still riding around in donkey carts."
Travelers to Brazil — of which there'll be many in the summer when Rio hosts the Olympics — should take advantage of excellent sand along the coast. And the adventuresome attitude of sandboarders at Dunas Cuervos in Mexicali makes it a favorite spot of Cruz's.
If you want to try sandboarding but don't have plans to travel to any of these destinations, Beale maintains an exhaustive list of sandboarding locations on his website.
As for where I tried it, Beale said Qatar's sand's condition doesn't allow sandboards to reach top speeds. Maybe that's an issue after three decades of experience. But as I was putting my back hand into the sand to slow myself, let's just say I wasn't disappointed by my inability to hit 40 miles an hour. And with the Arabian Gulf in the foreground and Doha's distinct modern skyline in the distance, the setting was unparalleled.
Back at the Four Seasons Doha after my sandboarding runs, I stepped out of our Land Cruiser and sand streamed down my pant leg, forming a mini dune on the ground. Three steps, three dunes. And standing in my suite's deep soaking tub, undressing and shaking off the sand, I thought of suggesting the hotel update its website to mention the new onsite sandboarding park I was creating.
But while I stepped out for a sushi-rolling class at the new Nobu Doha—raw fish, potent sake and sharp knives being more in my comfort zone than soft sand—the Four Season's housekeepers made the sand in my room disappear. All of it.
Maybe my issue isn't sand, after all, but just poor cleaning practices.