Holland America's suite upgrades: What guests can expect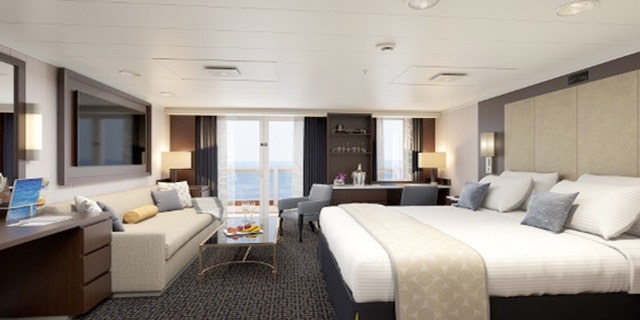 With the impending launch of the Koningsdam, Holland America Line's newest cruise ship, a number of new partnerships have been announced, and now details about the rest of the fleet's suite upgrades have been revealed in a recent news release.
Slated improvements include the suites aboard the company's Signature-, Vista- and R-class ships. Over $40 million of the planned $300 million brand enhancement budget is allotted just to this specific accommodation type.
"Our suites are the epitome of luxury and pampering, and the new amenities and upgrades will ensure that our suite guests will continue to enjoy the finest in cruise accommodations," said Orlando Ashford, Holland America Line's president. "We have an ongoing program in place to keep our ships looking fresh, but dry-docking gives us an opportunity to take enhancements to the next level to ensure we deliver the elements that make up the Holland America Line cruise experience."
The suites will generally reflect a more refined, modern appearance, in keeping with the upcoming Koningsdam designs. Living areas will get a new sofa, desk chair and lounge chairs. A new headboard, runner and skirt will dress the bed as new carpets, wall coverings, drapery, a privacy curtain, quartz stone countertops and lighting improve the rest.
Electronic upgrades include a new USB charging outlet at the bed's headboard, along with LED reading lights, fresh electrical outlets and a clever lit closet rod. A new interactive television system is also in the works, featuring complimentary on-demand movies and digital access to daily program guides and ship information such as restaurants, the spa and billing.
The suite bathrooms will also be redesigned with new tile floors and a vanity backsplash, stone tops, convenient nightlight, under-mount sinks and modern faucets above. New mirrors will also feature integrated LED lighting.
There are suite perks aplenty aboard Holland America ships: Guests have priority embarkation, disembarkation and tender service; exclusive Neptune Lounge access for those in Pinnacle and Neptune Suites; private breakfast in the Pinnacle Grill; complimentary laundry and dry cleaning services augmented with a premium duvet, bathrobes and slippers; Bose docking station; voyage-use binoculars; complimentary mimosas during in-suite breakfast and a coffee and espresso machine in the suite.
First up to receive the new suite accommodations will be the Eurodam during its December 7-20, 2015 refit and the Oosterdam during its April 3-18, 2016 dry-dock followed by the Nieuw Amsterdam, Westerdam, Zuiderdam, and Noordam. The Amsterdam, Rotterdam, Volendam and Zaandam will also receive the new suites during their respective dry-docks scheduled across the next few years.
More from TravelPulse
Put a Twist on Thanksgiving Travel
Winter's Chill Launches Special Caribbean Travel Packages
Holland America's Suite Upgrades
10 of the Best Cruise Ship Bars