Historic Port City Debates 'Cruise Control'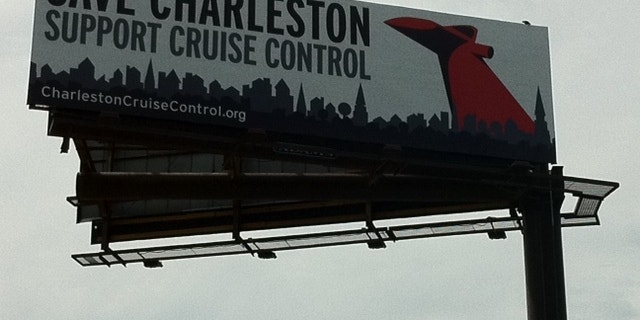 CHARLESTON, S.C. -- The elegant and historic homes of this coastal town draw tourists from around the world. But how some of those visitors get here is making waves in the community.
"I have nothing against cruising," said Carrie Agnew, executive director of Charleston Communities for Cruise Control (C4), an advocacy group. "I've been on a number of cruises and I think that they're a great thing. I just think that Charleston is a small city and it all needs to be kept in balance."
Agnew's organization has rented a billboard. The ad features the iconic "whale tail" funnel of a Carnival Cruise Lines ship towering over Charleston's historic buildings. Bold letters read, "Save Charleston. Support Cruise Control."
The South Carolina State Ports Authority (SPA) wants to replace its 1970s-era cruise terminal, which is located on the south end of a 65 acre cargo port just steps from Charleston's historic district. The SPA plans to convert an old warehouse on the property into a state of the art cruise ship terminal.
According to city and port officials, the construction project will create 336 jobs and bring Charleston's tourist industry into the 21st Century.
"The cruise business has been an extraordinarily positive force in the local economy," said Byron Miller, the SPA's vice president for marketing, public relations and planning. "At a time when most communities are shedding jobs, we're adding jobs through the cruise business. It's really been a life preserver for this waterfront."
But some residents fear renovating and expanding cruise facilities near the historic district will encourage bigger ships and more frequent visits -- crowding streets with tourist traffic and blocking waterfront views.
"Charleston is a city where people come to see not public buildings, like in Washington DC or New York City," said Kirk Grant, president of the Historic Ansonborough Neighborhood Association. "They come to see dwellings that have been privately restored with private money, by private people who live there. And it's the quality of those lives that are being adversely affected."
Some residents have suggested moving the cruise port to another existing cargo terminal about a mile and a half to the north. But port officials said they don't want to disrupt industrial operations there. According to city planners, a downtown cruise terminal just makes sense.
"For the ships that are port of call, they're within a short walk of our historic districts and our market," said Tim Keane, director of planning, preservation and sustainability for the City of Charleston. "We don't have to shuttle people around. It's the best location because it's very accessible on foot to the part of the city that people want to be in."
Port officials said they have agreed to limit cruises to an average of two per week, but plan to move forward with the project. The new cruise ship terminal is scheduled to open in early 2013.