Hawaiian Airlines engine catches fire upon landing at Seattle airport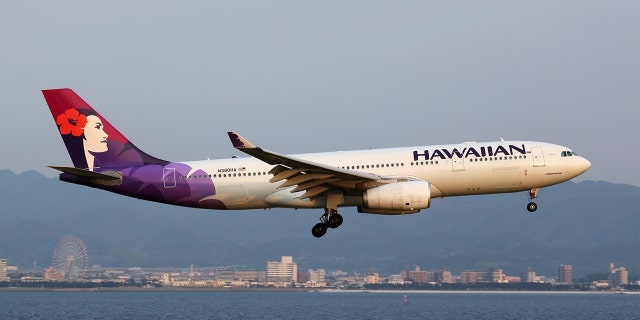 Passengers waiting in a Seattle-Tacoma International Airport terminal witnessed a terrifying scene on the evening of Nov. 7, as a Hawaiian Airlines Flight 875 landed on the tarmac with its engine engulfed in flames.
En route from Paine Field, Wash. to SeaTac, the Federal Aviation Administration (FAA) confirmed that the Airbus A330 aircraft traveled as a ferry flight, meaning that it was only ferrying crew members — and not Hawaiian Airline passengers — at the time, CBS News reports.
No injuries were reported.
FLIGHT DIVERTED AFTER WOMAN UNLOCKS HUSBAND'S PHONE AND UNCOVERS AFFAIR
Naturally alarmed by the sight of a fiery plane, Sea-Tac staffers and travelers alike sounded off on Twitter, some sharing video of the incident.
"An A330 ferry flight from PAE to SEA experienced a left engine issue on final approach at SEA tonight. A left engine fire reported upon landing was extinguished," the airline confirmed on Twitter later that night.
UNITED FLIGHT ATTENDANT SUES FOR HER RIGHT TO WEAR CLOGS
Contrastingly, the FAA offered a different explanation for the aircraft fire. The aviation authority told CBS that the plane "experienced a right engine flyer fire upon landing. By the time that fire crews had arrived at the aircraft, the flames had already been extinguished," an airport spokesperson confirmed to the outlet.
The FAA continues to investigate the situation.
FOLLOW US ON FACEBOOK FOR MORE FOX LIFESTYLE NEWS