Hawaii For Beginners: How To Pick Your Island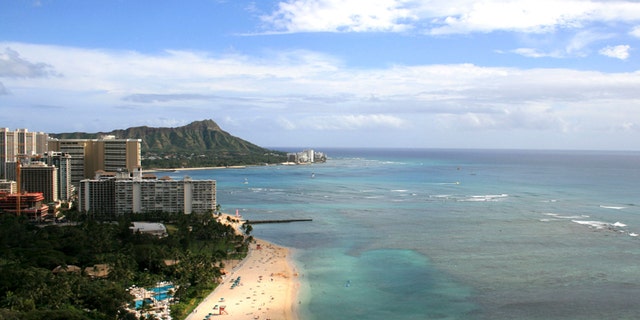 Planning a trip to the Hawaiian Islands but not sure where to start? Torn between picking a single island or doing some island hopping?
Wherever you travel around the Hawaiian Islands, fantastical beaches, friendly faces and ono grinds (good eats) are practically guaranteed, but every island has a unique flavor.
Get swept up by the kinetic energy of the capital island, O'ahu. Hang loose on Maui, which offers a little something for everyone, but especially for beach bums. Gaze at the towering sea cliffs on ancient Kaua'i. Wonder at new land being birthed by volcanoes on the Big Island, Hawaii's youngest isle. Escape to total resort luxury on Lana'i or learn to live life off the land on rural Moloka'i, where native Hawaiian traditions run strong.
Whatever you're seeking in paradise, the Aloha State has it – all you have to do is open your eyes.
Islands at a glance
1. O'ahu Best for: Beaches, Food, Museums Multicultural modernism
Explore O'ahu if you want to take the measure of multiracial Hawaii, which confounds the categories of census-takers. Here, East and West merge as ancient Hawaii greets the 21st century. Big city, small island – Three-quarters of state residents call 'The Gathering Place' home, and everyone rubs elbows – on the beach and the bus, on city sidewalks and country lanes. Still sprawling, even empty beaches are just a short drive from downtown Honolulu's art galleries, museums and monuments. An endless feast – If you do nothing else on O'ahu, eat. Japanese izakaya (gastropubs), island-style food trucks, high-wire fusion menus by Hawaii's top chefs – it's all here, waiting to be tasted.
For more O'ahu travel tips head over to FoxNews.com's Destination Guide >>
2. Hawai'i – The Big Island Best for: Hiking, Culture, Wildlife Hiking
Kilauea, the most active volcano on Earth, conjures up a dreamscape for hikers: emerald amphitheater valleys and icy waterfall pools, lava flows both active and ancient crashing against rain forest and some of the loftiest summits your boots will ever struggle to top. Hawaiian culture – On the Big Island, culture is participatory – absorbed, rather than simply observed. Here you're invited to create a lei, dance a hula, beware the night marchers and watch as fish are caught the old Hawaiian way. Wildlife – Spinner dolphins leap in the air, sea turtles glide up to a seaweed buffet, and endangered nene cross the road regularly here. In winter, humpback whales are the show-stoppers.
3. Maui Best for: Beaches, Hiking, Food Sun and surf – Justifiably famed for its glorious strands, Maui's got a beach for every mood – wind-whipped kiteboarding meccas, calm snorkeling coves, hidden gems and some of the biggest surfable waves on the planet. Or just plop down on the sand and scan the horizon for wintering whales. Trails galore – Maui's trails go to the most amazing places: towering ridge-tops, cascading waterfalls, bamboo forests, and a cindery volcanic national park. Choose from easy strolls to hardy backcountry treks. Locavore heaven – Grass-fed beef from Upcountry pastures, dayboat fish and bountiful organic gardens ensure Maui's chef-driven restaurants have the raw ingredients to whip up their famed Hawai'ian regional creations.
For more Maui travel tips head over to FoxNews.com's Destination Guide >>
4. Lana'i Best for: Remoteness, History, Beaches Isolation – Ignoring the great views of other islands, Lana'i feels like an isolated bit of subtropical pleasure far from the rest of the world (as opposed to the 25-minute plane ride from Honolulu). There aren't many people, the landscape is stark and you can go on adventures exploring its unvisited corners. Pineapples – Nearly the entire island supplied the world with pineapples for much of the 20th century. The crops are gone but the vintage plantation town of Lana'i City still beguiles. Hulupo'e Beach – Lana'i's one main beach is a beaut. A long crescent of sand on a bay good for snorkeling and backed by a tidy, uncrowded park.
5. Moloka'i Best for: Culture, Adventure, History Most Hawaiian
More than 50% of Moloka'i's people have indigenous heritage. Locals consistently favor preservation of the land and culture over schemes that would promote tourism. Yet there is aloha spirit everywhere and visitors find a genuine rather than a paid-for welcome. Saint Damien – A young priest who traveled to the island's remote Kalaupapa Peninsula in 1873 to care for leprosy patients is America's first saint. Today the spectacular peninsula is a national park and a visit is one of Hawaii's top adventures. Wild adventure – The world's tallest sea cliffs, misty rain forests, hidden waterfalls and deserted beaches are just some of the features that beckon.
6. Kaua'i Best for: Beaches, Hiking, Food
With the closest traffic light 20 miles away, the North Shore is home to many who came to check in and stayed to tune out. Surfing, hiking, and a contagious (if not invasive) laid-back vibe perpetuate the North Shore life. Sunny Po'ipu – The most consistently sunny area on the island, Po'ipu is like a tropical version of sleep-away camp. Smiles abound on the South Shore as most days offer activities galore. Canyons and cliffs – The rugged terrain on the Garden Island ranges from gaping chasms to sheer coastal cliffs, balanced out by copious verdant flora and topped by the wettest spot on Earth shrouded in cloud. As dramatic as any landscape on the planet, it is exemplary of Mother Earth's highest potential for land creation.
Island hopping itineraries Island hopping is a great way to get more of a taste of the islands, but make sure you budget enough time to relax between your flights.
Here are two recommended multi-island itineraries:
1. Maui, Lana'i and Moloka'i (2 weeks)
You've got time, you've got money and you want culture, outdoor adventure and peaceful relaxation in equal measure. Combine Maui, Moloka'i and Lana'i – half the time, you won't even need to drive. This trip is for lovers, culture vultures and anyone happy to spend a little more for plush lodgings and gourmet eats. But you've also got to be willing to rough it once in a while, when the rewards – hidden waterfalls, epic sea cliffs – make it worthwhile.
First, spend five to six days in Maui. Make it easy on yourself: get a hotel room or a condo for the duration at Ka'anapali or Kapalua. Immerse yourself in Lahaina's whaling history and browse Ka'anapali's Whalers Village Museum, enjoy some old-school aloha at the Old Lahaina Luau, take a whale-watching cruise, and for a thrill, try ziplining.
As for beach time, some of Hawaii's most seductive strands await nearby, like Kapalua Beach or Honolua Bay. Take one full day to hike Haleakalā National Park's summit moonscapes and another to lazily drive down the Road to Hana, stopping off for waterfall hikes and to buy fresh coconuts.
Next, hop over to Lana'i and take your pick of world-class resorts located in Lana'i City and at Manele Bay, staying three or four nights. Things have been a little hectic so far, so play a round of golf, snorkel at Hulopo'e Beach or take in the vistas from the Munro Trail.
To really get away from it all, rent a 4WD and head for the Garden of the Gods and Shipwreck Beach.
Finally, spend four or five days on Moloka'i. Stay in a condo or B&B near small-town Kaunakakai.
Day one: explore East Moloka'i, checking out Halawa Valley and perhaps a waterfall or two. Day two: trek to the Kalaupapa Peninsula and munch macadamia nuts at Purdy's farm. Day three: head out to the remote beaches of the island's West End or penetrate the dense forests of the Kamakou Preserve.
2. O'ahu, Big Island and Kaua'i (3-4 weeks)
If you want to live in the scenery (not just admire it), consider combining O'ahu, the Big Island and Kaua'i, all of which together offer the hiking and backcountry adventures of a lifetime plus plenty of traditional and contemporary Hawaiian culture, not to mention tasty treats for your tummy.
Don't have 3-4 weeks? Consider doing just two of the islands. Start on the capital island of O'ahu, basing yourself in Waikiki or Kailua for a week. Among the major cultural sights around Honolulu, don't miss the Bishop Museum, 'Iolani Palace, the Honolulu Academy of Arts and Pearl Harbor.
Along with time spent on Waikiki's beaches, snorkel at Hanauma Bay and hike to Manoa Falls after visiting the Lyon Arboretum. End each day exploring Honolulu's cuisine scene and enjoying heavenly Hawaiian music and hula with sunset cocktails by the ocean.
Drive up the Windward Coast to the North Shore for surfing, stand-up paddle boarding and windy walks out to Ka'ena Point. Mosey over to the Big Island and book a B&B in South Kona for a few nights.
For ocean adventures, hike to secluded Makalawena Beach, kayak and snorkel at Kealakekua Bay and snorkel or dive at night with manta rays around Kailua-Kona. In Ka'u, go caving at Kula Kai Caverns, hike to Green Sands Beach, and follow the rugged Road to the Sea.
Next, Hawai'i Volcanoes National Park offers spectacular hiking and, if you're lucky, a chance to watch live lava flow into the sea. Afterward, bed down in a rainforest cottage in Volcano. Spend a night or two in Hilo, taking time to day-hike on Mauna Kea or to drive partway up the mountain for stargazing after dark.
Last, explore Waipi'o Valley; if you've got the time, consider backpacking to Waimanu Valley. With another week or more on Kaua'i, spend a couple of nights camping and hiking at Koke'e State Park and Waimea Canyon State Park, then boogie up to the North Shore, mixing some camping at 'Anini Beach or Ha'ena Beach with lodgings in Hanalei.
Swim, snorkel and surf, but don't leave without tackling the Na Pali Coast's amazing Kalalau Trail.
Check out other articles from Lonely Planet
Tahiti & French Polynesia on a budget