Greek island where American tourist was killed known for debauchery, violence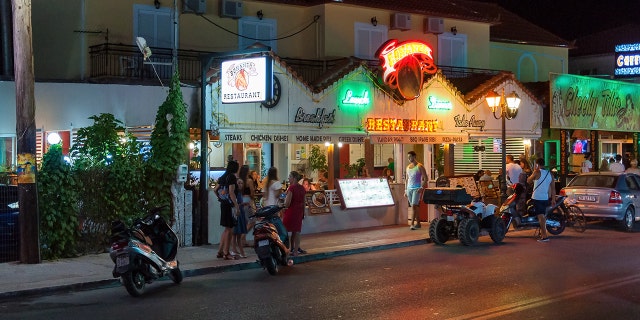 Early on Friday morning, an American tourist vacationing in Greece was beaten to death by a group of bar patrons on the resort island of Zakynthos.
Barkari Henderson, 22, had been accosted by a "mob" outside a Zakynthos bar after an argument over the placement of his drink, reported Kathimerini, an English-language Athens news outlet. The Austin, Texas resident died after suffering fatal head injuries in the attack.
Police have arrested at least eight people involved in the beating, including six Serbian nationals, a 34-year-old Greek man and a 32-year-old British man of Serbian origin.
AMERICAN TOURIST, 22, BEATEN TO DEATH ON GREEK ISLAND, 8 ARRESTED
The mayor of Zakynthos, Pavlos Kolokotsas, says municipal officials and local police officers are re-evaluating their efforts to crack down on rowdy bar behavior, but locals have long been critical of the island's disorderly tourism industry and sex-fueled attractions.
In 2008, for instance, Matthew Cryer, a 17-year-old from Sheffield, England, died outside a drinking establishment in the Zakynthos village of Zante. The original police report claimed Cryer had drank himself to death — his family, however, insisted that he had been killed by four of the staff. A Greek court eventually decided in 2014 that the four men would not face legal action, according to the BBC.
Also in 2008, Reuters reported that 15 British citizens — along with six Greek citizens — had been arrested after partaking in an oral sex competition on Zakynthos' Laganas Beach. At the time of the arrests, police said the tourists had been paid to compete, and the ensuing footage was released on the Internet.
BEYOND KIDNAPPING, TOURISTS FACE MOUNTING CRIMINAL THREATS WORLDWIDE, EXPERTS WARN
The Independent, too, shared a statement from a Zakynthos-based doctor who said he frequently investigated rape complaints from women who came in so drunk, they couldn't remember when or if they'd had sex that evening.
Visitors and their drunken exploits/crimes aren't only confined to Zakythos or its touristy village of Laganas, either. The Guardian reported that locals to Malia, in Crete, Faliraki, in Rhodes, and Cavos, on Corfu, have also seen their share of rowdy resort-goers, including the 2008 incident in which six British tourists to Malia beat a shop-owner who requested that they drive slower around their resort, and four Northern Irish men who gang-raped another English tourist that same year, while filming the act on their phones.
Oddly enough, some of the rowdier revelers to the Greek islands post pictures of themselves during or after a night out, often bragging about how hard they partied on vacation.
"What is wrong with the British?" Crete police officer Yiannis Kyriakakis asked The Guardian following those crimes. 'Why can't you have fun calmly?"
FOLLOW US ON FACEBOOK FOR MORE FOX LIFESTYLE NEWS
A reporter for Vice Greece wrote in 2014 that locals are expected to ignore the tawdry behavior of tourists from Britain, Germany, Australia and Italy, so as not to affect tourism dollars. ("[Laganas has] become a Mecca for sexually depraved English tourists," wrote Vice.) But some, like a group in Cavos, have tried to fight back by posting embarrassing photos of the drunken tourists on Facebook, in an effort to shame future visitors into behaving, according to the Daily Mail.
It may prove more difficult to ignore such behavior following Henderson's murder, which has since prompted a response from the U.S. State Department.
"Greek police in Zakynthos notified the U.S. Embassy of the death of a U.S. citizen in the early morning hours of Friday, July 7," the department told Time in an official statement. "We are in communication with authorities and providing consular assistance to the deceased citizen's family."