Gov. Nikki Haley says South Carolina tourism is reaching new levels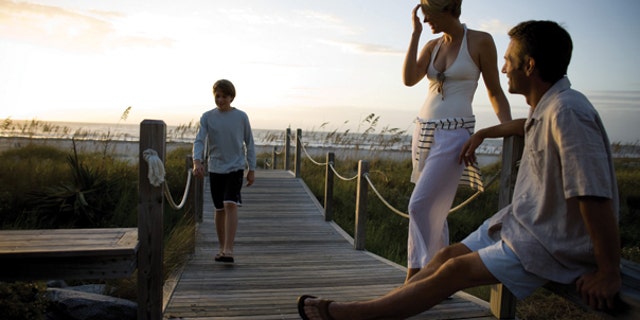 CHARLESTON, S.C. – South Carolina Gov. Nikki Haley said Wednesday the state's $15 billion tourism industry is reaching new levels and garnering worldwide attention despite the troubled economy.
Haley stopped by the birthplace of the state, the Charles Towne Landing Historic Site, to talk about tourism, which is one of the largest industries in the state.
Hotel room occupancy in South Carolina through August was up more than 3 percent compared to last year while revenue per available room, a key indicator of the health of the industry, is up approaching 8 percent.
And this week, the readers of Conde Nast Traveler voted Charleston the top tourist town in the world. Last year, and again this year, it was also voted the top tourist destination in the United States.
"What it should tell people across South Carolina is that you don't need to go anywhere. It's all right here," the governor said. "And what it tells everybody across the world is if you haven't been here, get here quickly and if you have, get back."
Haley said last summer's PGA Championship on Kiawah Island also put the state in the international spotlight. "We got to see a $92 million economic impact from the PGA and continue to see benefits," she said.
She also noted that state park revenues reached a record $21 million during the fiscal year that ended June 30.
Tourism officials have said that while this summer's season was strong, the state still hasn't recovered to levels of before the Great Recession. But state Parks, Recreation and Tourism Director Duane Parrish said at current rates, the state next summer should again reach the record levels of 2007.
Helen Hill, executive director of the Charleston Area Convention and Visitors Bureau, attended the news conference and spoke briefly. She was wearing a boot on her foot because of a fractured ankle — an injury she joked she got from jumping up and down when she heard the news about the Conde Nast ranking.
Haley was asked about her favorite place to stay in South Carolina.
"I'm a rural girl and we have such treasures in rural parts of South Carolina that are untapped," she said. "For me, I love driving down the rural roads and seeing all the beds and breakfasts. But anyplace in South Carolina is a good place to be."
The Department of Parks, Recreation and Tourism is gearing up a $2.5 million spring advertising campaign to attract visitors to what they're calling undiscovered South Carolina — rural areas away from such well-known tourist destinations as Charleston, Myrtle Beach and Hilton Head.
_____
Follow Bruce Smith at http://twitter.com/brucesmithap