Frustrated flier arrested for dousing security agent in contact solution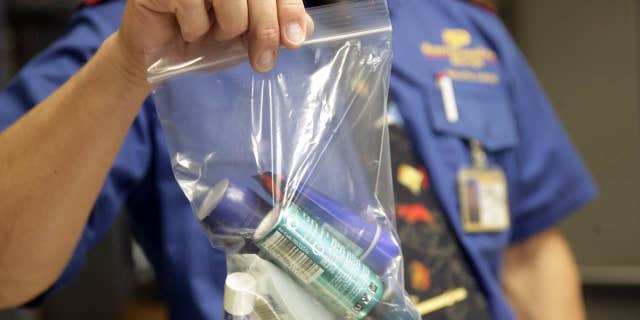 NEWYou can now listen to Fox News articles!
Pouring liquids and gels into regulation sized containers is one of the biggest hassles of air travel in the 21st century.
But one frustrated passenger decided to take matters into her own hands after being told she couldn't fly with her contact solution.
A 28-year-old Beijing University graduate student, who has only been identified by her surname Li, was traveling through Xiaoshan Airport in Hangzhou on May 4.
According to the South China Morning Post, Li wanted to bring a bottle of contact solution through security but the container exceeded the 100 mL limit legally allowed in China.
Li attempted to circumvent the restriction by pouring some of the solution into a paper cup from a water dispenser near the security checkpoint but was told by staff that she was not permitted to board since the cup was not a sealed container.
Security camera footage from the airport shows Li throwing the liquid onto a security officer as he is inspecting her belongings. Li, who was reportedly traveling for a job interview, was immediately detained at the airport but has since been released.
China has been plagued with a series of misbehaving travelers in recent months, including a first time flier who mistook the emergency exit for the bathroom door, causing the inflatable slide to deploy, and a group of passengers physically abusing airline crew over a delayed flight.