Frontier to make the middle seat the widest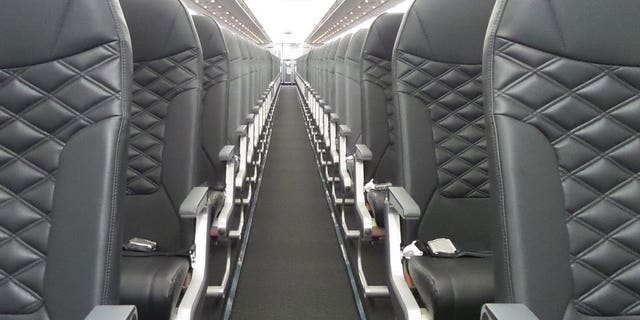 NEWYou can now listen to Fox News articles!
Conventional wisdom holds that an airplane's middle seat is the worst.
But Frontier is looking to change that by adding an extra inch to the seat's width, reports Conde Nast Traveler.
"This will make sitting in the middle seat a little less uncomfortable."
The newly designed middle seats will be 19.3 inches wide, at least an inch wider than the window and aisle seats, which will only be 18.1 inches wide. The airline, best known for piling on extra fees on everything from drinks to carry-ons, says it will not charge extra for the special seats.
"This will make sitting in the middle seat a little less uncomfortable," Daniel Shurz, Frontier's chief commercial officer, told Conde Nast Traveler.
But even with the added the width, passengers seated in the middle may still be feeling the squeeze. The new seats have only 28 inches of pitch, meaning the passengers will have two fewer inches between their seat and the seat in front of them. Frontier says that new seats are pre-reclined—which Frontier president Barry Biffle referred to as a "built-in knee guard"-- to avoid legs getting crushed by the passenger in front.
So where is the space coming from? Since Frontier doesn't serve hot meals, the large galley space on a similar aircraft is being remodeled to accommodate more passengers. Conde Nast also notes that the new bathrooms will be smaller too but Frontier isn't worried about passengers complaining.
"Customers fly on regional aircraft all the time when they can't stand up in the lavatory," Shurz says. "They handle that just fine."
The new cabin layout will allow the low-cost airline to add 12 additional seats to each Airbus A320s and A319s by the end of this year. This will allow Frontier to seat 180 passengers on an A320 compared to United plane that will have 150 seats.
"The cost of operating an airplane is basically the same no matter how many seats you put on it," Shurz told Conde Nast Traveler. "We are spreading the cost of operating the airplane across more seats."
Check out the slimmer, new seats coming together in promotional video from Frontier.