Frankenstorm to Stomp on Travel Plans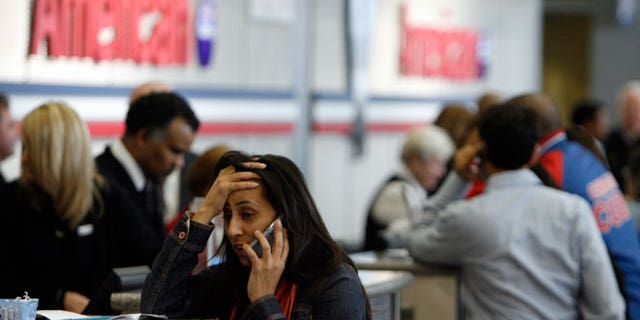 As Hurricane Sandy barrels toward the Northeast this weekend, experts are already crunching numbers in a quest to determine the financial fallout.
While casualty insurers are calculating the cost of high winds that could damage homes or put people's lives in danger, another group is warning of the economic damage that would ensue following a major disruption in travel.
The Global Business Travel Association is warning no matter Hurricane Sandy's strength when she makes landfall, a major storm always reverberates across industries and could lead to financial consequences.
"Anecdotally, we know that this type of storm would have a significant effect on business travel given that its path and severity would disrupt a large number of airports and cities," the GBTA said.
In a hypothetical scenario of a more severe storm, the GBTA recently determined a Category 3 Hurricane skirting the east coast for one or two days would cause total spending on business travel to fall by about $684 million.
Most of that would derive from an interruption of about 580,000 business trips, and while a portion would be rescheduled, the GBTA estimates business travel would initially loose about 514,000 trips, or $606 million, due to storm-related cancellations.
Trickle-down effects caused by temporary business closures and supply chain interruptions would cancel another 66,000 trips, translating to about $78 million in lost travel spending.
"The impacts of a more severe East Coast storm of any kind may be frightening to contemplate, but vital to consider," GBTA Foundation vice president of research Joe Bates said after Irene.
Bates encourages all layers of the travel industry, from airlines like Delta (NYSE:DAL) and United Continental (NYSE:UAL) to hotels like the InterContinental Hotels Group (NYSE:IHG) and even car renters like Avis (NYSE:CAR) to have the travel impact of potentially catastrophic storms built into contingency plans.
To give perspective, in the 11 states potentially in harms way if a Cat 3 hurricane were to travel up the East Coast, average business travel spending would amount to $58 million a day, ranging from a loss of $11 million daily in Delaware to a high of $157 million in New York, a travel hub that sports three international airports.
That amounts to a loss of about 55,400 business trips a day, from a low of 9,400 lost in Delaware to a high of 133,000 interrupted daily in New York.
In addition to flight cancellations, major storms also tend to bring trains and busses to a stop and disrupt power, making life difficult for travelers and commuters. In 2011, Hurricane Irene caused flights to be grounded at airports across the East Coast, from Miami International Airport to Newark Liberty International in New Jersey.
In the scenario of a Cat 3, interrupted business trips would result in a total GDP loss of about $675 million and $176 million in lost federal, state and local tax revenues, according to the GBTA.
A storm of that magnitude would also have the potential to cut into $32 billion in corporate revenue, the group said. The GBTA said some of those sales would eventually be made up, but a portion would ultimately remain lost.
Of course, the actual loss on business travel will always depend on the level of a natural disaster, including its severity, duration and location.
It's uncertain whether Sandy will hit the East Coast as a hurricane or just a severe tropical storm. Estimates have ranged from the worse storm in 100 years, colliding with a nor'easter to create a so-called "frankenstorm," to shrinking drastically in force.
Travel is already weighed down in the U.S. due to slower growth in China, stubbornly high U.S. unemployment and cautious spending. A major storm that threatens to put the brakes on travel for a few days would only worsen the outcome.
In a report released earlier this month, the GBTA forecast that total U.S. business travel spending would grow 2.6% in 2012 reaching $257 billion, more a reflection of higher travel costs than people actually traveling.
Business trip volume is expected to fall 1.6% this year to 438.1 million, and that number would inevitably decline if a storm were to ground plans, stop trains and keep people sheltered inside their homes.