'Flintstones'-themed tourist attraction is sold off, will be turned into falconry center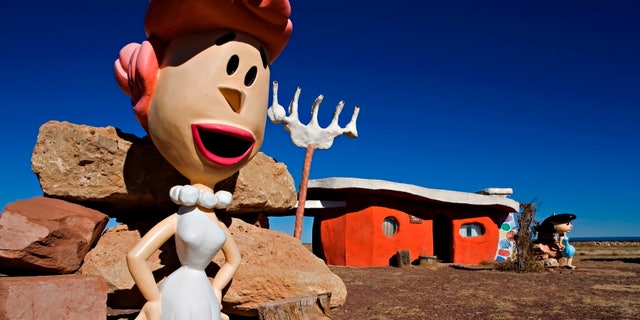 Unfortunately, it's unlikely that the falcons will be tasked with opening tin cans or spinning records with their beaks, either.
A "Flintstones"-themed tourist attraction in Arizona will soon become a wildlife education facility called Raptor Ranch, to be focused on falcons and falconry.
TYRA BANKS OPENING THEME PARK TO BRING 'MODELING TO THE MASSES'
Flintstones Bedrock City, which featured a restaurant, RV center and gift shop, closed in late January after originally opening in 1972 approximately 30 miles south of the Grand Canyon near Williams, Ariz.
The site will now be used as a "wildlife education facility, bird of prey breeding project, and home of the Northern Arizona Raptor Foundation," per the Raptor Ranch website. The site – officially known as Raptor Ranch: Birds of Prey – will also house falcons, eagles and owls, according to KPNX.
"Our mission is to provide the public with an understanding of raptors, falconry, and wildlife conservation through unique educational displays and demonstrations," reads a message posted to the Raptor Ranch website.
FOLLOW US ON FACEBOOK FOR MORE FOX LIFESTYLE NEWS
Raptor Ranch co-founder Ron Brown says the property was purchased for less than the $2 million listing price but declined to give a specific amount when asked by the Arizona Daily Sun. (The owner of the property has reportedly been trying to unload the land since 2015.)
Brown also confirmed that most of the Flintstones structures will be torn down, but officials have also expressed interest in finding "good homes" for the characters.
Raptor Ranch is set to open sometime in spring of this year, according to the organization's Instagram page.
CLICK HERE TO GET THE FOX NEWS APP
The Associated Press contributed to this report.