Flights, trains to France continue despite closed borders following Paris attack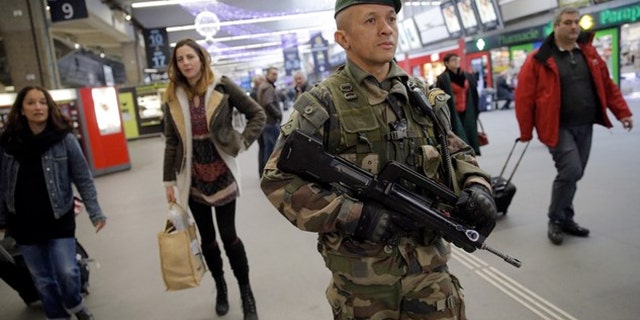 President François Hollande declared a state of emergency Friday night after gunmen opened fire at the Bataclan concert hall and set off explosives at the French national stadium the Stade de France.
The state of emergency should include stopping flights at the country's airports and trains. Yet, according to Sky News, the French Foreign Ministry says that airports are to remain open and flights and trains will continue.
As of late Friday evening in Paris, Charles de Gaulle (CDG) Airport –the city's largest airport--remains open, but some carriers have delayed flights into the city.
"American Airlines continues to monitor the tragic situation in Paris. Charles de Gaulle International Airport (CDG) is open, and we anticipate operating our remaining departures this evening to Paris, the airline said in a statement to FoxNews.com. "However, we have canceled Flight 48 this evening from Dallas Fort Worth International Airport to Charles de Gaulle International Airport, and we are working to reaccommodate those passengers."
Other American Airlines flights to Paris will continue to operate on Friday, the statement said. Customers who wanted to change their travel plans will be accommodated.
According to the flight tracking website, FlightAware, flight paths are being redirected around France in the wake of the attack.
United spokesman Charles Hobert said that the carrier is actively monitoring the situation. "As of now we are operating our schedule as planned, though that may change depending on the developing situation," he said.
Only flights at Orly International airport in Paris, the smaller of the city's two airports, have reportedly been suspended apparently due to a breakdown of a computer program that provides weather and visibility updates to pilots.
Concerned consumers have been scrambling to find out more information. So far, flights on the country's national flag carrier, Air France, appear to be running as normal.
A Eurostar spokesman has said trains will run on Saturday but a free exchange will be offered to those who don't wish to travel after the attacks. Customers should expect delays amid heightened security. The Belgium government said it is stepping up spot checks on passengers arriving from France.
Travelers are encouraged to check with their provider before leaving home and get updates through social media sites, such as Facebook and Twitter.