Flight attendant praised for breastfeeding passenger's baby midflight once mother runs out of formula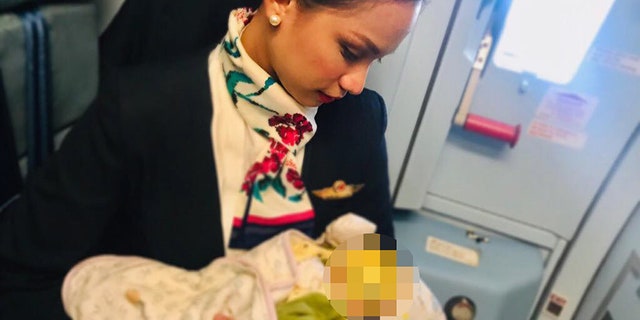 A Philippine Airlines flight attendant Patrisha Organo, 24, is going viral on social media for going above and beyond the line of duty during a Tuesday flight.
Organo, was on the flight as the final check to be qualified as a Cabin Crew Evaluator, she wrote on Facebook.
During the trip, Organo, who has a 1-year-old child, said she heard a baby crying from the cabin.
MOMS WHO BREASTFEED FIRST CHILD FOR AT LEAST 5 MONTHS LIKELY TO HAVE 'MORE CHILDREN OVERALL,' STUDY SUGGESTS
"You know the difference between a cry of hunger, a cry of sleepiness, or a cry of something else," Organo tells Yahoo Lifestyle.
Organo said she walked down the aisle to the crying baby and asked the mom if she needed assistance.
According to her Facebook post, which has over 122K reactions, the mother started to tear up and told Organo that she had run out of formula and was unable to feed her child.
Organo, who has been a flight attendant with Philippine Airlines for four years, Yahoo Lifestyle reported, felt the need to help the desperate mother.
"Passengers started looking and staring at the tiny, fragile crying infant," Organo recalls of the scene in her Facebook post. "There's no formula milk onboard. I thought to myself, there's only one thing I could offer and that's my own milk."
Organo told the line administrator on her flight of her intention to feed the child and was instantly encouraged. The mother was thrilled by the idea as well.
POLICE OFFICER PRAISED FOR BREASTFEEDING MALNOURISHED BABY WHILE ON DUTY AT HOSPITAL
"Ms. Sheryl Villaflor, Line Administator on my flight, immediately assisted the mother to the galley where I breastfed the baby. The baby started rooting, she was so hungry," she wrote on Facebook. "I saw the relief on her mother's eyes. I continued to feed the baby until she fell asleep. I escorted her back to her seat and just before I left, the mother sincerely thanked me."
Organo said of her own breastfeeding journey, that she experienced days when she wanted to give up – but is glad that she continued, noting that she has a strong supply of milk, which helped her nurse the crying child on the plane.
"In my early days of breastfeeding, I would really like to give up, but because I have the strong support of my husband, I kept going," she said to Yahoo Lifestyle. "He kept encouraging me. It was a storm of emotion and without my husband's support, I could never do it."
Organo's sweet gesture has earned her thousands of positive responses on Facebook, with many calling her "sweet" and "an angel."
FOLLOW US ON FACEBOOK FOR MORE FOX LIFESTYLE NEWS
"God bless you ... you truly have a special heart," one person wrote.
"There are angels on the earth too," another wrote.
"I absolutely love this, I've often dreamed of being able to help out with my milk to another mother in need ❤ your a hero," one commented.
And as a sweet end to her sweet gesture, Yahoo Lifestyle reported that Organo was promoted to Cabin Crew Evaluator on the flight.