Cruises are traditionally a dieter's worst nightmare, almost on a par with French fries, glazed donuts and supersized sodas. According to a survey of more than 1,200 British cruisers, for instance, 52 percent said they'd gained up to 14 pounds during a two-week holiday. Even worse? About six percent reported putting on up to 18 pounds. But going on a cruise doesn't have to mean being cooped up, doing canned excursions, and letting your waistline bulge while you eat coconut shrimp by the pool.
Instead, it can mean early morning Tai Chi classes on deck, getting a personal training session in a state-of-the-art fitness center with sweeping views, or putting in an early evening jog in the fresh ocean air. As the public becomes more and more health conscious, cruise lines are offering better options—by way of expanded gyms, fitness classes and over-the-top amenities like jogging tracks, climbing walls and artificial surf waves—to help you stay active while at sea. That way, if you're eating more food (and admit it—you will!), you can balance calories in with calories out without running up and down the stairs or doing lunges down the hallway (and attracting strange looks from fellow passengers).
Rather than aim for absolutes—and run the risk of multiple ships from the same company (Royal Caribbean, for instance, would take many slots, based on the sprawling size of its ships alone)—we picked the top ships from 13 different cruise lines, in order to serve cruisers of every stripe, from the family types who might sail with Disney to those who prefer the luxury of a Regent Seven Seas vacation. To come up with our ranking, we looked at passengers per personal trainer, size and number of fitness centers, counted every piece of fitness equipment (at least that we could get numbers for) and factored in number of fitness classes and more exciting amenities like zip lines, rock walls and sports facilities.
Ready to set sail on a fitness-friendly cruise? Here are 13 ships with calorie-crunching fitness offerings onboard to keep your waistline intact.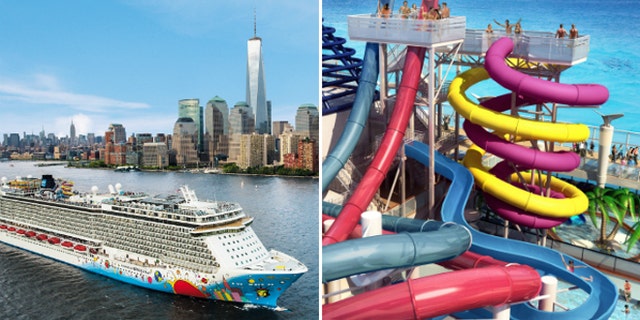 1. Norwegian Breakaway
This ship literally takes fitness to new heights. The top deck boasts the first Aqua Park at sea (with five full-sized water slides, no less) and a three-story sports complex where you can go rock climbing or bungee trampolining, play basketball or try the largest ropes course at sea with more than 40 different elements to test your fitness. For the icing on the cake, a nationally branded indoor cycling class Flywheel is opening a high-tech cycling studio on board.
Best For: Thrill-Seekers
From: $749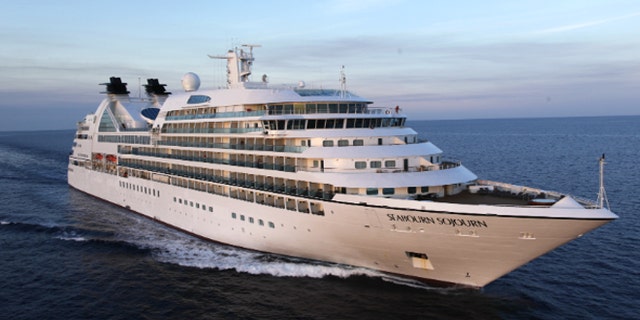 2. Seabourn Sojourn
It's all about balance when you board the Sojourn, which features the Motion Studio and its double set of Kinesis Wall units. (Not familiar with Kinesis? It's a system of cables and pulleys that give you uniform, balanced resistance, boosting the efficiency and efficacy of your workouts.) Of course, you can also find a full-service fitness center, but standouts here include free yoga, Pilates and Ki-Bo classes.
Best For: Holistic at Heart
From: $2,499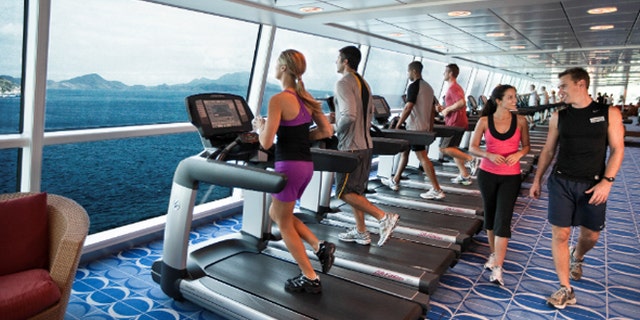 3. Celebrity Reflection
Zumba fans, take note: Celebrity recently partnered with Zumba Fitness, so, along with having access to regular Zumba classes, you can now take advantage of specialty ones, like AquaZumba, Zumbatomic and Zumba Gold. A licensed Zumba instructor leads the classes. Love cycling? Then hop into a Flywheel class. Or if you prefer the more traditional route, head into the extensive fitness center or book a personal training session.
Best For: Fitness Class Groupies
From: $699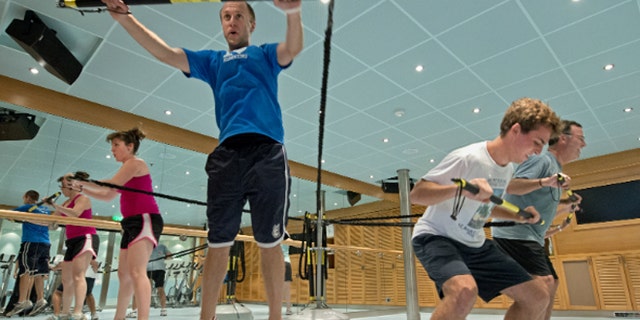 4. Carnival Breeze
Carnival's newest fun ship features the SportSquare, an outdoor rec center with suspended ropes course; jogging track; and Ping-Pong, pool and football tables. A fitness center also offers a plethora of cardio equipment and weights; floor-to-ceiling windows let you get lost in the views as you sweat.
Best For: Diehard Gym Rats
From: $324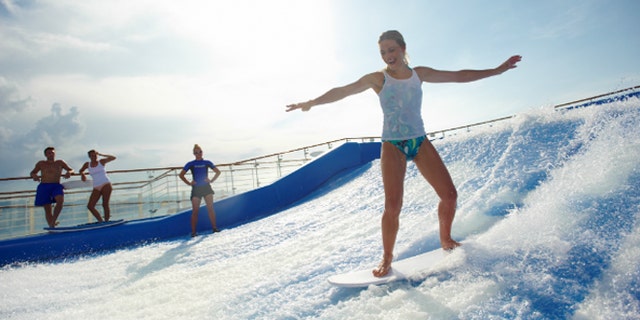 5. Royal Caribbean Oasis of the Seas
Go big to sweat big, right? That's apparently the motto behind this 5,400-guest monster where you can sweat off those calories just walking what was once the biggest ship on the sea (until its sister ship, the Allure of the Seas, usurped it). You won't want to miss the Pool and Sports Zone where you'll find a sports court for volleyball and basketball, miniature golf, zipline and two FlowRider surfing simulators. Best part, besides the supersized fitness center with its Omega Kinesis wall and fitness classes like kickboxing, spinning, Pilates and yoga? The unbelievably long jogging track (for a cruise ship, that is) where one lap equals almost half a mile.
Best For: Outdoor Adventurers
From: $349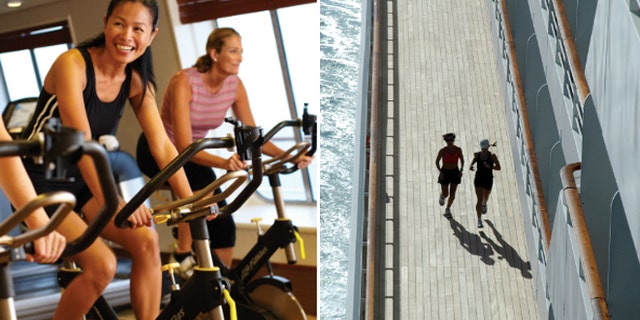 6. Crystal Serenity
Crystal Serenity takes its fitness seriously with two full-sized paddle tennis courts, extra wide 360-degree promenade decks for walkers and joggers (you can even use the ship's Nordic walking poles and Walk-on-Water weighted vests), and a state-of-the-art fitness center. Complimentary Tour de Cycle spinning, Pilates Reformer and dance classes round out the offerings.
Best For: Casual Exercisers
From: $1,950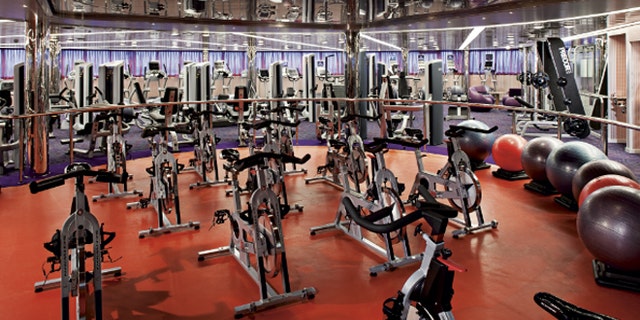 7. Holland America Nieuw Amsterdam
How does a morning stretch, abs class or tai chi sound? Enjoy those for no charge, or for a slight fee, sign up for yoga, Pilates, body sculpt boot camp or a personal training session. You can also get educated about health by attending free seminars that might reveal secrets to a flatter stomach, how to increase your metabolism, or detoxing for health and weight loss.
Best For: Health Seekers
From: $499
See all fit cruise ships at The Active Times
More from The Active Times:
The Friendliest Adventure Travel Destinations
The Path Less Traveled: 15 Crowd-Free National Parks to Visit
30 Best Adventure Trips for 2013