First look: Inside Universal Orlando's Volcano Bay water park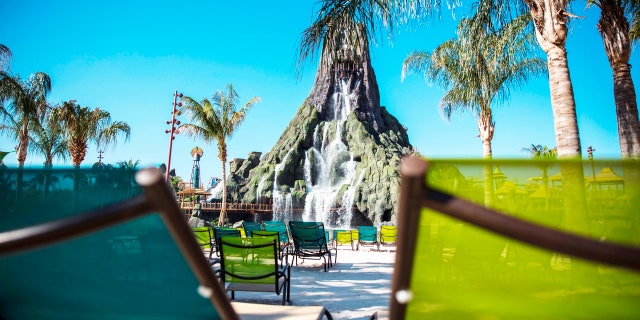 Starting this summer, Universal Orlando hopes to turn the tides on the traditional water park experience with the debut of Volcano Bay.
Opening May 25, the new Polynsian themed park promises guests brand new experiences including reduced wait times thanks to wristband technology, gourmet food experiences and, of course, plenty of wild water rides.
Here are five ways Universal is reinventing the water park this summer:
1. TapuTapu Wristbands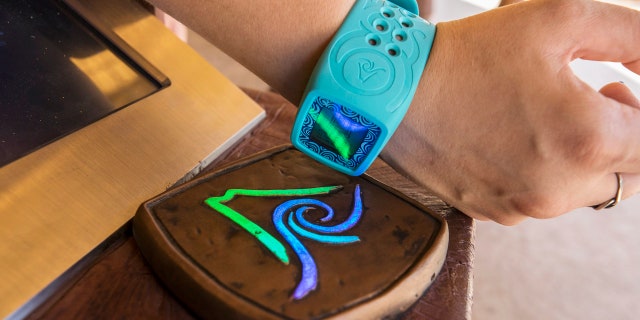 Universal is using smart technology to cut down on notoriously long water park waiting lines. All guests entering Volcano Bay receive new "TapuTapu" wristbands, allowing guest experiences to be "more hassle free, more immersive, and quicker to get to the fun," Chris Crayner, Universal Orlando's Chief Digital Officer, told Fox News.
With a simple tap, these waterproof devices allow visitors to join a "virtual line" to reserve a place for an attraction, letting you explore the park while you wait. A small screen on the wristband and a gentle buzz will alert you when it's time to ride. Like Disney's MagicBands, the wristbands can also be linked to a credit card to allow easy payment and locker rentals, removing the need to carry a wallet. Universal also has photo opportunities throughout the park that can be stored via the wristband, so need to get your cell phone wet lugging it around.
CHRISTMAS IS COMING TO THE WIZARDING WORLD OF HARRY POTTER AT UNIVERSAL
2. Interactivity
TapuTapu wearables also enable a layer of interactive moments to be triggered throughout Volcano Bay. "Since guests aren't having to physically stand in a line any more, we wanted to make sure we had plenty of other experiences for them," explained Jeff Polk, Vice President of Water Parks at Universal Parks and Resorts.
Guests can trigger a variety of special effects while wandering the park. Universal is staying tight-lipped about what some of these surprises are, but Polk did hint that visitors "might have water squirt on someone else."
3. Unique Rides
Scattered across four distinctly themed ares, Volcano Bay features a variety of rides and slides. Its centerpiece is Krakatau, a 200-foot-tall volcano that streams waterfalls by day and launches fiery lava effects by night. Tucked inside is the Krakatau Aqua Coaster. "We've taken some existing technology - we're using linear inductor motors in a different way," Polk told Fox News. "Riders are propelled up and down throughout several different hills and valleys, at the same time getting a little surprise from a squirting tikis along the way as you travel through a cave."
The volcano's Ko'okiri Body Plunge slide pulls the floor out from underneath you via a drop door that sends you 125-feet down along a steep, 70-degree drop.
Beneath the volcano in the River Village, you'll find the Kopiko Wai Winding River, a slow-moving ride that lets you soak in the sights around lava rocks and through a "magic" cavern. But Polk prefers the action-river ride, TeAwa The Fearless River, which lets park visitors race through rapids.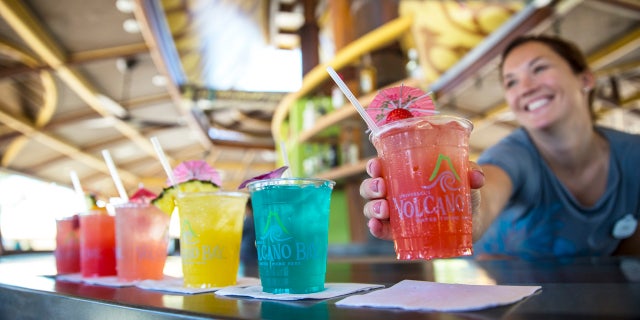 4. Food
The eclectic menus of Volcano Bay are the "exclamation point" to the experience, says Ric Florell, Senior Vice President & General Manager of Resort Revenue Operations at Universal Orlando Resort. "Since everything here is at the next level, we needed a new level of cuisine to match."
Beyond the expected cheeseburgers and pizza, the menu created by Universal's chefs features more than 60 items that includes healthier fare, too.
The water park features a variety of foods with an island flair, from coconut curry shrimp and jerked mahi mahi to Hawaiian ribs and a mango BBQ pulled pork slider. The menu also includes tacos, fritters, spring rolls and even sushi. Those with a sweet tooth will find plenty to enjoy in the park's chocolate pineapple upside down cake and guava tapioca pudding.
5. Story-Driven Design
Universal has dubbed Volcano Bay a "water theme park." The immersive experience comes from the same in-house creative studio that made the Wizarding World of Harry Potter, so it's all about the small details as well as the over-the-top rides.
FOLLOW US ON FACEBOOK FOR MORE FOX LIFESTYLE NEWS
"Our Universal Creative team always wants to set out to create an experience like none other, that will really transport guests into a different place and different time," said Polk.
So what's the story? Volcano Bay is a centuries-old Pacific isle inhabited by the fabled Waturi islanders, who are responsible for all the adventures found within.
"We've created a water theme park that has the story intertwined into everything you see. It's in the architecture. It's in the fabrics used for the canopies in the village huts around the park. It's part of the interactive experiences that you can enable through the TapuTapu wearable," said Pole. "It's evident in everything."