Fatal airport crash went unreported for 22 hours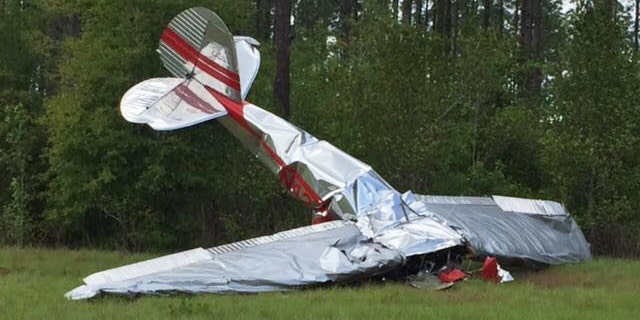 NEWYou can now listen to Fox News articles!
A family aboard a 1948 Cessna 170 attempted a takeoff from Florida's Williston Municipal Airport around 3pm Saturday.
Instead, they crashed 150 feet before a tree line at the taxiway's north side, reports the Gainsville Sun.
But though some 20 to 30 planes took off from the airport later Saturday—and nearby pilots should have registered the signals from the plane's emergency locator transmitter—the crash was only reported to police some 22 hours later.
Authorities say a pilot first spotted the wreckage and called it in around 1pm Sunday, per WXIA. Inside, authorities found Nathan Enders, 37, of Williamson, Ga.; his wife Laura, 42; and their two young sons, Jaden, 7; and Eli, 5.
All four were dead. A GoFundMe page has been set up to provide for funeral expenses and a scholarship fund for a surviving son who was not on the plane.
"For all that traffic, no one thought to call us," says Williston's deputy chief of police.
"This is really a huge complacency issue." Nathan's sister expressed her heartache on Facebook: "It is so awful still, thinking of ... what was going through their minds, if they knew what was happening or felt any pain as they sat there [upside down] waiting ... to be found."
The Sun reports the airport has a full-time manager and two part-time employees, but couldn't confirm whether they were at work Saturday as Enders, an experienced pilot and air traffic controller himself, was taking off.
The National Transportation Safety Board is compiling a preliminary report but says it could be months before officials determine the cause of the crash, which occurred in fair weather, per the Atlanta Journal-Constitution.
(This pregnant mom lost her husband and two kids in an instant.)
This article originally appeared on Newser: Their Plane Crashed at the Airport, but No One Noticed