'Fast & Furious' stars unveil 'Supercharged' ride at Universal Studios Hollywood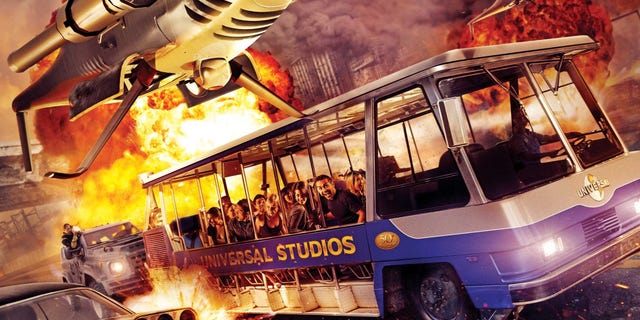 NEWYou can now listen to Fox News articles!
"Fast and Furious – Supercharged"—the new ride based on the hit film franchise -- opened with a supercharged splash Tuesday at Universal Studios Hollywood.
Actor Vin Diesel and his co-stars Michelle Rodriguez and Tyrese Gibson were on hand to kick off the attraction, which opens to the public Wednesday.
"Everyone around me was like, 'Can we do that again. Right now?'" Diesel told USA Today after getting off the ride with his three children. "That pretty much summed it up. Wow! Talk about amazing."
The six-minute thrill ride begins on a tram where the action simulates the feeling a high speed car chase through the streets of Los Angeles. Using hydraulics and HD images projected on a massive 360-degree screen, riders attempt a high-speed escape through crashing cars and gunfire while getting blasted with wind, fog and mist.
Supercharged also uses hologram images of the films' well-known stars in a short action-packed opening sequence.
"I knew when we were making it, we were creating something that I had never experienced," Diesel told USA Today.
Instead of a simple ribbon cutting, the ensemble cast gathered to open the ride in true "Fast & Furious" style. As the audience looked on, a Dodge Charger—identical to the car used by Diesel's character Dom in the movie--came racing out onto a ramp and crashed through a giant poster above the stage.
"That was intense," Gibson said after experiencing the ride. "It felt like I was there traveling at 120 miles-per-hour. People are just going to love this."