Fans rally to say goodbye to popular Disney, Universal rides in Orlando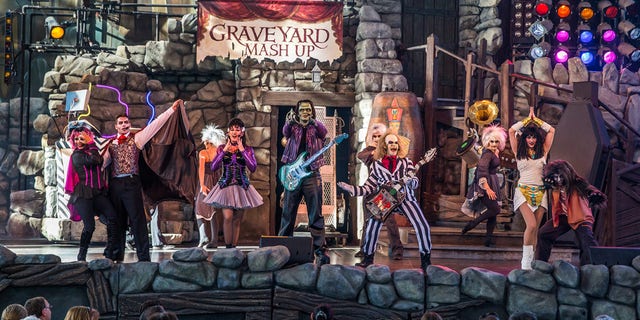 NEWYou can now listen to Fox News articles!
Out with the old, in with the new.
In Orlando, theme park fans are taking one last spin on of some of their favorite rides before they shut down for good to make way to flashier attractions. According to the Orlando Sentinel, some of these rides are so beloved by fans that their closings have turned into "unofficial celebratory gatherings."
At the closing of the Twister ride—based off of the 1996 film starring Bill Paxton and Helen Hunt-- at Universal Studios Orlando in November, dozens of fans dressed up as characters from the tornado-themed attraction which featured winds and a flying cow.
(Dressed-up fans of all ages gather for Twister's last day. Twitter)
"I think someone made the comment that, 'I'm going to dress as Bill,' and it spread from there," Matt Roseboom, editor and owner of Orlando Attractions magazine told the Orlando Sentinel. "We promoted that: Come dress as Bill and Helen and get a group photo."
And fans responded in full force, with men donning blue shirts and pants and women in white tanks. Workers who opened the original attraction in 1998 even came out to pose with fans.
Twister is set to be replaced by Ride Through New York with Jimmy Fallon attraction, slated to open in 2017.
"Beetlejuice Graveyard Revue," a musical show featuring classic monsters was originally scheduled to close in December but after a high volume of demand for tickets, Universal extended the show's run until Tuesday. It will be replaced by the Fast & Furious: Supercharged ride, which will also open in 2017.
Orlando resident Patrick Jeffers, a longtime fan of Disaster said the ride closings are bittersweet but acknowledges that it is fun to have an excuse to get excited about something.
"You know how there's always a grand opening for an attraction … but when it's closing all those crazy fans come back," Jeffers said. "It's the cult fans. … so everyone is saying the punch lines. They're just overacting, and it's really fun."
In Oct. 2014, Disney shuttered the long running Maelstrom dark ride at Epcot's Norway Pavilion. Fan Ivonne Ramos rode the water ride seven or eight times on the last day.
"For me it was very sad. I think a lot of people thought the way it was going to be replaced was very depressing, considering that Epcot was always about real-world cultures," Ramos told the Sentinel. "And now they were kind of shoehorning in this 'Frozen' attraction, kind of unceremoniously replaced with something that no one felt belonged there."
The Frozen Ever After ride, based on the animated blockbuster, is scheduled to open this spring in the space formerly occupied by Maelstrom.
Though fans may mourn the loss of classic theme park rides, Dennis Speigel, president of International Theme Park Services Inc, says replacing older attractions is nothing new
"Everything has its life and its cycle," he said. "There are people who are in love with certain attractions. That's their baby, if you will… But when a new attraction comes in a year later, everyone is enthralled and happy with it."
But Roseboom says social media has boosted the profile of certain rides—and allowed fans, and millions of others, to connect to theme parks in new ways.
Said the magazine editor, "I think the Internet has helped change that, so people now are more interested in seeing attractions go away whether they were their favorites or not."