Emotional support duck Daniel is winning over the Internet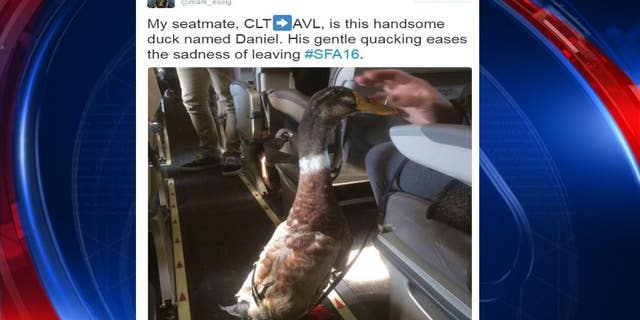 He may not be your typical support animal, but he's definitely one of the sweetest.
Meet Daniel the duck, an emotional support animal for a nervous flyer.
Mark Essig was on the same flight as Daniel and his owner this weekend from Charlotte to Asheville, NC. His live tweets of their encounter have made Daniel an internet sensation.
"My seatmate, CLT->AVL, is this handsome duck named Daniel," Mark tweeted. "His gentle quacking eases the sadness of leaving #SFA16."
Not only does he help with stress, but the duck's wardrobe is tres chic. Daniel has a pair of red shoes for his webbed feet and a Captain America inspired diaper.
After Essig posted a series of photos Sunday night, the waddling support pet has become an Internet sensation.
RELATED: Are emotional support pets a travel hazard?
Daniel belongs to Carla Fitzgerald of Milwaukee, who developed PTSD after she was thrown from a horse and carriage she was steering, then hit by a driver who was texting. She has had him since he was a duckling but he has since been officially certified as an emotional support pet, meaning he can fly with her Filtgerald wherever she goes.
"First of all, he's got a calming effect," Fitzgerald told the Citizen-Times.
"Second of all, if I start heading toward the PTSD, he senses it right away and he's able to calm me down. If I'm standing he'll try to climb on my legs, and if I'm sitting he will face me. He'll climb my chest, and that's my cue for me to lie down. And then he sits on my chest until it passes. Then once it passes, we go about our day."